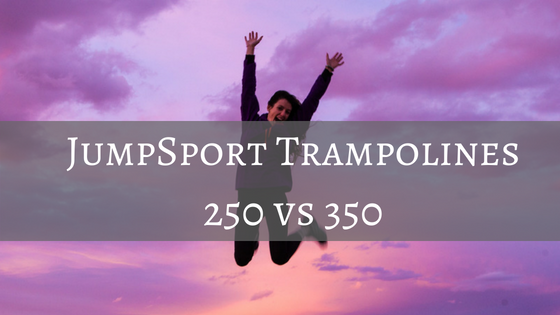 Ready for the best news ever?
Jumping on a trampoline or rebounder is a FANTASTIC and FUN way to get in shape.
Not only that, but there are some awesome and affordable fitness trampolines on the market right now, so jumping your way to weight loss has never been easier.
In this article, we're going to dive into two of the absolute best and help you choose between the JumpSport 250 vs 350 fitness trampoline.
I'll break down cost, size, features, and more to help you pick the right model for your fitness (and fun!) needs.
Overall, these two mini-trampolines are really similar, but you'll get a little more value for your money with the JumpSport 350 when it comes to extra durability and adjustable bounce firmness settings.
Here's a quick summary chart to get you started.
Image
Product
Details

JumpSport 250

Budget-friendly!
Soft bounce
Available in 1080p

Check on Amazon
See on Amazon

My Pick

JumpSport 350

Higher-end construction
Adjustable firmness
Amazing durability

Check on Amazon
---
What are JumpSport Fitness Trampolines?
The fitness trampoline trend has been growing for years.
More and more people are choosing to work out at home using rebounders (mini-trampolines), and what's more, fitness trampoline studios are popping up in more and more cities.
JumpSport, founded by a husband and wife team, was initially concepted around trying to make trampolines fun and safer for kids. From there, the business grew, and now JumpSport is one of the top manufacturers of both recreational and fitness trampolines.
Why rebounders? Well, the benefits of rebounding on a fitness trampoline include:
High calorie burn for weight loss
Low impact on joints
Super, super fun
Great for your lymphatic and immune systems
Improves digestions
Great for your cardiovascular conditioning
JumpSport's top-selling models, the 250 and the 350 are both great choices, and are overall quite similar.
But there are a few key differences you should know about before you choose one to buy.
---
Price Comparison
Both JumpSport fitness trampolines are similarly priced, and give you a lot of bang for your buck.
Though I would categorize both in the high-end price range compared to many competitors.
For the money, however, both the JumpSport 250 and 350 offer fantastic features, durability, and value.
The JumpSport 250 lists a little cheaper than the 350, though you're likely to find a great deal on the 350 on Amazon, as well.
You'll see why there's a price difference in the section below.
---

Get the latest price on the JumpSport 250 or the 350
---
Size Comparison
Both of these models qualify as personal or mini-trampolines (also called rebounders).
Meaning; they're meant for one person to bounce on at a time!
If you're used to large, backyard trampolines, this will be an adjustment. But the good news is that they're perfectly suited to fitness, working out, and exercising indoors (or wherever you have the space.)
The JumpSport 250 clocks in with a jumping surface of 485 square inches, though you can stray outside of that and jump directly onto the skirt and bungees if you need to, up to 1030 square inches. (The full jumping surface is just a hair under 3 feet in diameter.)
The 350 is similarly sized. The actual bounce surface (the part without the skirt and cords) is a little bigger, at 510 square inches; though the full diameter of the trampoline is a little bit smaller, at 915 square inches.
Minor differences aside, these two trampolines are about the same size. Expect them both to be about 3 feet wide in terms of jumping surface, plus a little extra room for the legs to stick out.
---
Weight Limit Comparison
Now we're getting into understanding why the 350 is considered the slightly higher-end model.
Essentially, the 350 is a slightly more powerful and durable version of the same trampoline.
Though similar in overall size, the JumpSport 350 can handle a weight load of up to 275 pounds
Whereas the 250 can handle (appropriately enough) 250 pounds
You may not want to push your mini trampoline to its absolute maximum capacity, so if you weigh 250 pounds or more it might be best to look for another model with a higher weight limit.
But if you're looking for just that little bit of extra durability and support, the JumpSport 350 is the better choice here.
---
Firmness Levels Comparison
Another great selling point of the JumpSport 350 is the ability to adjust the firmness of the bouncing surface.
The 350 offers 3 different firmness settings depending on your preference and comfort.
The 250 is not adjustable.
This is a great feature for seniors, people with joint or back problems, or anyone who wants to switch up the intensity of their bouncing workouts.
Though it's not totally necessary for a great rebounding home workout, it's absolutely a nice feature to have.
---
Durability (Bounce Cycles) Comparison
Finally, the 350 gets the edge over the 250 in longevity and durability.
The JumpSport 350 is rated to handle a lifecycle of 800,000 bounces
The JumpSport 250 is said to last for about 400,000 bounces
Both of these rebounders are rated far better than most competitors when it comes to durability.
Expect either to last quite a long time, but the 350 gets the nod when it comes to longevity.
---
You might love the JumpSport 250 if…
You have a smaller budget
You want a little, tiny bit of extra bouncing space
You aren't worried about maximum weight limit
You might love the JumpSport 350 if…
You weigh close to the 250 pounds mark
Extra durability and longevity are important to you
You want to adjust firmness levels to your own preference
---

Get full specs and read reviews for the JumpSport 250 or the JumpSport 350
---
The Verdict
These are both awesome and extremely well-reviewed fitness trampolines, but the 350 is probably the slightly better buy.
It's got the extra longevity, durability, and some cool features that will really come in handy for weight loss and home exercise.
The 250 is also a great buy if your budget is lower and you're not as worried about weight limit and adjustable settings.

Your best bet is to check the latest price on the JumpSport 350 on Amazon and go from there.
I hope this research has helped! Good luck on your search, and let me know in the comments if you have any questions about fitness trampolines.