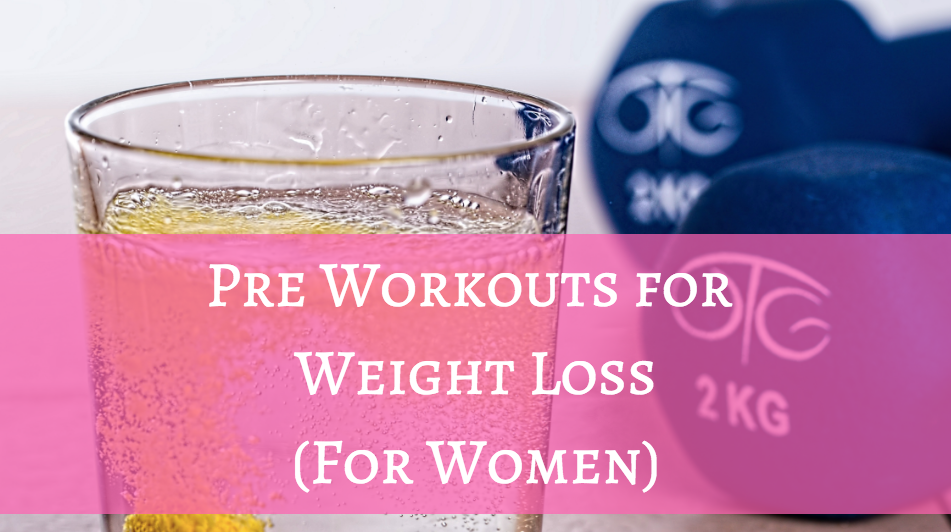 After pouring over hundreds of customer reviews and doing hours of research on the benefits of pre workouts, I think Kino Octane is the best bet for most women.
What you sacrifice in taste you more than make up for in performance, zero calories, and top-notch ingredients.
Read on to hear about some more great options and how I came up with my top 3!
…
Whoever said pre workout drinks are just for men?
That's a load of bull.
Everyone could use a little boost of energy in the gym. And it's been scientifically proven that using a pre workout supplement (or even just an extra cup of coffee) can boost your workout performance.
If you're looking to lose weight or burn fat, a high-quality pre workout supplement could be a great tool in your arsenal.
If that's the case, there are a few things you might want to consider when shopping for a pre workout for weight loss.
Below, I'll walk you through what to look for and give you my recommendations for the 3 best pre workouts for weight loss for women.
(But first, a summary:)
Image
Product
Details

FitMiss Ignite

Designed for women
Low caffeine levels
No water weight from creatine

Check on Amazon

Cellucor C4

Popular & easy to find
Medium caffeine
Cost effective

Check on Amazon

My Pick

Kino Octane

All-natural
No jitters or crash
Natural flavors

Check on Amazon
---
Can a pre workout help you lose weight?
Yes!
But probably not in the way you think.
When a pre-workout claims to boost fat burning or weight loss, here's what you SHOULDN'T expect:
Weight to magically fall off
Your belly to magically shrink overnight
Sitting around watching TV and burning fat at the same time
Your workout results to improve drastically
If only it were that easy!
Now, there are some supplements or additives that can effectively blunt your appetite or ramp up your metabolism, which in turn could help you lose weight, but those things only help if they're paired with proper nutrition and exercise.
And of course, pre workouts are mostly designed to give you more energy in the gym for your workouts (like yoga!). If you can boost the intensity of your workouts and your overall strength and performance, you'll have a better chance of hitting your weight loss goals.
But the weight loss only comes from you putting in the work, not from the drink itself!
---
(Remember that the overall driver of weight loss is being in a consistent calorie deficit to force your body to tap into fat stores for energy. Working out can help you burn calories to hit that deficit, retain muscle mass while cutting or losing weight, and improve overall health.)
---
What to look for in a women's pre workout for weight loss
All of that being said, not all pre workouts are created equal.
Sure, energy is energy for the most part, but quality differs drastically between brands. Not only that, but some pre workouts are better suited to men, others to women, and some are great for anyone.
Here's what to look for while shopping for a women's pre workout for losing weight:
Low or no calorie. Most pre workouts fit this requirement so that shouldn't be an issue.
Low or no creatine. Creatine promotes water retention in your muscles for fullness and performance, but if you're looking to trim down and get lean, it's probably better to avoid it.
No "testosterone boosters." Sometimes pre workout supplements will claim to boost or improve testosterone. Whether they can or do is debatable, but probably better to steer clear just in case. The testosterone boosting market is extremely profitable and, for that reason, filled with a lot of snake oil and chemicals that may not be properly vetted.
Sweeteners? This is a classic pre workout dilemma. You obviously won't want a ton of sugar in your pre workout if weight loss is your goal. But you also may not be a fan of artificial sweeteners for your long-term health. There are naturally flavored pre workouts available, but just be aware you may have to sacrifice on taste a bit.
Now let's jump into my top recommendations.
---
Best budget pre workout for women & weight loss: FitMiss Ignite Women's Pre Workout Supplement
Overview: Specifically designed for women, FitMiss Ignite comes highly rated by reviewers all across the web. It comes in some fantastic flavors (Strawberry Margarita… Fruit Punch) and packs some great taste into only 5 calories.
Calories: 5 per serving
Caffeine: 100mg (low)
Artificial Flavors: Yes
Cost: $
Why we like it: Like I wrote above, you certainly don't have to use a pinkly-marketed pre workout that's specifically for women, you can use almost any pre workout you want, but it is nice to at least consider one that's made with women in mind.
The reviews for FitMIss are through the roof, the price is friendly, and this one is lower on caffeine and energy so you'll feel alert and ready to go but not wired through the roof.
There's also no creatine in here so you won't see any additional water weight from drinking it. FitMiss offers a 30 day, full money back guarantee through Amazon if you don't like the product.
Potential drawbacks: Caffeine levels may be low for some who need a big boost. Flavors come from artificial sweeteners.
Check price and read more reviews of FitMiss Ignite on Amazon.
---
Best mid-range pre workout for women & weight loss: Cellucor C4 Original
Overview: This is one of the most popular pre workouts on the market, and for good reason. You'll see it everywhere (though the best deal is on Amazon) and that's because it just plain works. Balanced, enough caffeine to get you going, friendly price tag but not bargain-bin quality. C4 is a great one to try if you're new to pre workouts and don't know what you like yet.
Calories: 5 per serving
Caffeine: 150mg (medium)
Artificial Flavors: Yes
Cost: $$
Why we like it: I've used this personally and liked it quite a bit. The taste is great (though it does come from quite a bit of artificial sweeteners) and the energy level is right on point.
There's about two cups of coffee worth of caffeine in here. It's also got a lot of good stuff when it comes to gym performance and I definitely noticed an improvement vs not using a pre workout.
I prefer Octane, the next pre workout on this list, but for women who want to lose weight, this tasty and low calorie supplement should get the job done perfectly.
Potential Drawbacks: Small levels of creatine but should have little impact. Very sweet from artificial sweeteners.
Check price and read more reviews of C4 on Amazon.
---
Best high-end pre workout for women & weight loss: Kino Octane by Kinobody
Overview: This is good stuff right here, and one of my favorite pre workouts. All-natural ingredients, no artificial flavorings, and a huge emphasis on recovery as well as energy and performance, Octane is one of the top pre workouts on the market.
It's zero calorie and perfect for women who want to lose weight.
Calories: 0 per serving
Caffeine: 150mg (medium)
Artificial Flavors: No*
Cost: $$$
Why we like it: Octane is jam packed with some amazing supplements to fuel your workout. A medium amount of caffeine gets you going, along with L-Citrulline (only found in top pre workouts) that's clinically proven to improve circulation and decrease that "burning" sensation during workout so you can go harder for longer.
I've personally used Octane frequently and love the feeling and performance boost it gives me.
Potential drawbacks: Most expensive pre workout on this list. Flavor is so-so.
*New flavors of Kino Octane may have small amounts of stevia.
Check price and read more reviews of Octane.
---
Wrapping Up
There are hundreds and hundreds of pre workouts available on the market, and most of them are perfectly suited for women who are looking to drop fat.
Whether you want extremely high caffeine (some have 300mg or more!) or low, lots of recovery supplements or simply lots of energy in the gym, there's something for everyone.
Just remember to check the overall calorie count and be aware of the use of artificial sweeteners. Feel free to try many different pre workouts before settling in on your "go-to."
I hope this research has helped!
And don't forget to check out my top pick and favorite overall pre workout, Kino Octane, on Amazon. (I use the grape flavor, myself, and love it!)
I've found that Octane is often sold out on Amazon, by the way, and if that's the case you really can't go wrong with Cellucor C4, another of my favorites (Amazon link).
---
Preworkout for women FAQ
What's the best preworkout to help you sweat?
I'm not sure that a preworkout drink can really make you sweat any more or less than another, at least nothing I've seen in my research suggests that's the case.
What will make you sweat is having a kick ass workout, and the preworkouts above can definitely help you do that.
A little caffeine and some other natural energy boosters will give you the juice you need to turn things up a notch in the gym, and THEN the sweat will come.
Also, it's important to note that just sweating by itself isn't necessarily a sign of a great workout and/or weight loss. It's just water coming off your body to cool you down, and most of it will likely return as soon as you start hydrating again and get cool.
That's not to say sweating during a workout is bad… it actually feels great, like you've accomplished something! All I'm saying is you can have great workouts, lose weight, and do it all with very little sweat depending on your program.
What's the best drugstore pre workout?
If you want to buy in person and not on Amazon, you should be able to find Cellucor C4 pretty much everywhere, from CVS, Walgreens, Publix, Giant, Walmart, Target, and beyond.
You'll probably get the best deal online, but if you see it on sale somewhere, it's a great choice for women looking for an effective preworkout.
Do preworkouts burn fat?
No, not on their own.
Your body burns fat when it's in an energy deficit, or when you're burning more calories than you're consuming. If you didn't tap into your fat stores, you'd die or have no energy to move, at least.
What preworkouts are great for is helping you get in a fantastic workout in, building strength, endurance, or both, and burning calories in the process (not magically on their own, but through hard work in the gym or out running, cycling, or hiking!). When you align your diet to your workouts and create a consistent calorie deficit, your body will burn fat very effectively.
Do preworkouts help with cardIo?
They sure do! Energy is energy, whether you use it to lift, run, bike, or kill it on the elliptical or stationary bike.
There are some compounds in preworkouts that are generally associated with lifting and muscle recovery, but many of them will also be very helpful for you after brutal cardio sessions. You need to recover from those, too!
The only thing to be wary of is not chugging a huge preworkout drink right before a big run. You don't want all that liquid sloshing around in your stomach while you're trying to exercise in a high-impact style. Drink your energy drink and give it 15 minutes or so before you start any kind of intense activity.
For a good all-around preworkout for lifting, cardio, and weight loss, check out Cellucor C4 on Amazon.