Putting together a list of exercises that start with the same letter is quite a challenge.
But some letters are easier than others. When you come across a letter that corresponds with a muscle group, things get a little easier.
That's the case with the letter 'T'. In fact, you've got two muscle groups – the triceps and the thighs.
So you can expect to see a few exercises here that hit the backs of your upper arms and your upper legs. But the list we've put together covers more than that – in fact, you could easily put together a full body workout using only this list!
Now let's get right into a nearly complete list of exercises that start with T.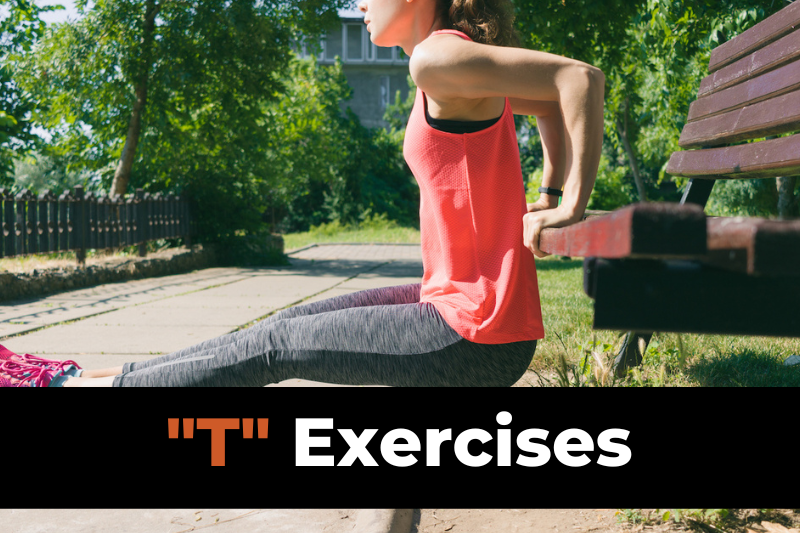 Some of the best exercises that start with the letter T are:
Tuck Jumps
Towel Curls
TRX Pendulum
Tricep Pushdown
Triple Stop Pushup
Touch to Toe Abs
Tricep Dips
Thigh Raise
Thigh Heel Pulse
TRX Supine Plank
Tiger Bends
Tricep Extension
Treadmill Eccentric Press
Tricep Push Up
TRX Kneeling Roll Out
Tricep Overhead Extension (Dumbbell)
Tricep Dips
TRX Barbell Curl
Triceps Kickback
Let's explore each exercise and why they all deserve a spot on this list!
---
1. Tuck Jumps
The tuck jump is a plyometric exercise that will get your heart pounding as it burns calories and builds explosive jumping power.
How To Do It
Stand with feet shoulder width apart and knees slightly bent. Place your hands at your sides.
Now explode into the air bringing your hands up to chest level. Try to bring your knees up to meet your hands.
Do your repetitions seamlessly with no rest between them.
Muscles Worked
Quadriceps
Glutes
Heart
Lungs
---
2. Towel Curl
The towel curl is a bicep curl variation that makes your forearms and wrist extensors work harder to maintain a grip on the towel. It's a great bodyweight bicep option with no equipment needed!
How To Do It
Place a towel around a beam at shoulder height and grab the ends of the towel in your hands.
Drop down into a semi squat position and lean back to put your weight on your arms.
Curl your arms to bring your body up to the beam.
Release to the start position under control
Muscles Worked
---
3. TRX Pendulum
The TRX suspension trainer adds an element of dynamic instability to your workout, making any exercise harder and, therefore, more productive.
How To Do It
Position yourself in front of the suspension trainer, facing away from it in a head down position. Hook your feet over the straps and support yourself on your palm.
Shuffle away from the anchor point and push up into the start position. You should now be in an upended plank position. There should be a straight line through your shoulders, hips, knees and ankles.
Now, move your legs from side to side in a pendulum motion. Be sure to keep your legs straight as you do this. Your core should be nice and tight as you try to bring your legs as high as possible on each side.
Muscles Worked
Obliques
Erector spinae
Abdominals
---
4. Triceps Pushdown
The tricep pushdown is a classic tricep extension to extend the muscle group through its full range of motion.
How To Do It
Stand a foot or so away from the pulley on a triceps pushdown machine, holding the bar so that the cable angles slightly away from you.
Press the bar down in as wide a semi-circle as possible. Don't let your elbows drift back. This shortens the path the bar travels and decreases the amount of work done, limiting the effectiveness of the exercise. As you press, keep your wrists straight and your shoulders down.
At the bottom of the motion, your elbows should be one or two inches in front of you, and your forearms should be parallel.
Reverse the motion to raise the bar. Allow the bar to come up until it's even with your chin.
Muscles Worked
---
5. Triple Stop Pushup
The Stop Push Up is an advanced version of the standard push up exercise that involves three dead stops as you descend down.
This makes your chest and triceps work hard to hold the isometric position and then resume from a standing start.
How To Do It
Perform a normal push up but pause for 3 seconds at the halfway position.
Pause again when your torso is to inches from the floor.
Pause a third time when you are about three inches short of the full extension position.
Muscles Worked
Triceps
Front deltoids
Pectorals
---
6. Touch to Toe Abs
This is an excellent body weight only exercise that gives you an awesome abdominal contraction. Don't swing or otherwise allow momentum to make the movement easier.
How To Do It
Lie on an exercise mat with your legs out straight and your arms extended beyond your head.
Now pivot at the hips and tense your core to bring your torso up and your hands to your toes.
Lower and repeat.
Maintain a neutral spine throughout this action.
Muscles Worked
---
7. Tricep Reverse Dips
The tricep reverse can be done at home with no equipment, allowing you to get an awesome tricep contraction.
To make it harder, place a weight on your lap.
How To Do It
Position yourself in front of a sturdy chair. Put your hands on the chair behind you at shoulder level distance.
Now place your feet out so that your body is at an angle of around 45 degrees to the floor.
Perform a tricep dip by bending the elbows to bring your body down to the floor.
From the bottom position, push through the triceps to return to the start position. Be sure not to pulse with your body to provide momentum.
Muscles Worked
---
8. Thigh Raise
This body weight only exercise does a good job of targeting the adductors and inner thigh muscles.
How To Do It
Lie on your right side with your legs out straight and your fingertips supporting you on the floor.
Draw up your left knee so that the foot is alongside your right knee.
Lift up your torso, maintaining a neutral spine position.
From this start position, move from the hip joint to lift your straightened right leg off the floor about six inches.
Lower until your foot is just off the floor.
Repeat for the required number of reps.
Muscles Worked
Quadriceps
Adductors
Glutes
---
9. Thigh Heel Pulse
The thigh heel pulse is an isometric hold exercise that really targets the sides of the waist.
How to Do it
Lie on your side with your legs stacked, one upon the other with your legs outstretched. Extend your bottom arm out above your head and the other directly up toward the ceiling.
With heels together, pivot at the hips to bring your legs about two inches from the floor. Hold for 10 seconds.
Lower and repeat.
Muscles Worked
---
10. TRX Supine Plank
Doing the plank on a TRX suspension trainer makes the exercise more challenging as it forces you to stabilize your body in an unstable position.
How To Do it
Lie on the floor in a face-up position, with your feet directly under the strap's anchor point. Place your feet in the foot trap and straighten out your leg.
Support the upper body with your elbow and forearms as you lift your hips into the air. Do not bend your knee.
Without tilting your head back, hold the raised hip position for 2-3 seconds, feeling the contraction in your ab and lower back.
Lower to the floor and repeat.
Muscles Worked
Abdominals
Erector spinae
Obliques
Intercostals
---
11. Tiger Bends
The Tiger Bend is a push variation that really shifts the emphasis to the triceps.
How To Do It
Start off in a normal push up position.
Lower yourself down to the ground by hinging at your elbows. Use your triceps muscles to come back up. It is very important to remember that you must keep your elbows tucked in close to your body when doing this exercise.
To make the move harder, bring your hands in closer to your body. You can also shift your weight into one arm using weight distribution.
Muscles Worked
Triceps
Front deltoids
Pectorals
---
12. Tricep Extension (Cable)
The tricep cable extension allows for a full range of motion while maintaining constant tension on the triceps.
How To Do It
Set the pulley on a cable pulley machine to shoulder height and put a rope handle on the end of it.
Face away from the machine, holding the rope handles above your head with your elbows flexed so that they are slightly higher than your shoulders.
Extend the elbows by squeezing the triceps against the resistance of the cable until your arms are straight. In the end position, your arms should be at a 45-degree angle to the floor.
Lower under control and repeat.
Muscles Worked
---
13. Treadmill Eccentric Press
The treadmill isn't just for burning calories. This exercise turns it into a pump enhancing triceps builder.
How To Do it
While standing on a treadmill, set it to one mile per hour (1.6 km/hr) or slower and carefully step off without changing direction (as though you were running on the belt).
Set up in a quadruped stance (on your hands and knees). Place the hand of your working arm on the moving belt toward the head of the treadmill.
Your other hand should serve as a support on the side of the treadmill, safely away from the moving belt.
Begin with your shoulder flexed and your elbow at maximal extension.
Push the palm of your open hand into the belt. Your hand and arm will be forced backward, replicating the eccentric portion of a one-arm shoulder press.
That is one rep.
Muscles Worked
---
14. Tricep Push Up
This push up variation involves bringing your hands closer together to target the triceps. The closer your hands are, the harder it is.
How To Do It
Get down in the standard push up position. Make sure that there is a straight line from your neck to your ankles (do not lift your hip). Now bring your hands in closer than normal so that the thumbs are about six inches apart.
Bend at the elbow to lower your chest to the floor.
When the chest is about an inch from the floor, push back up to full arm extension.
Lower and repeat.
Muscles Worked
Triceps
Front deltoids
Pectorals
---
15. TRX Kneeling Roll Out
This version of the kneeling roll out combines extension with instability to make the exercise doubly effective.
How To Do It
Kneel so that the anchor point is directly behind you (not directly overhead). Hold both handles overhead and straighten out your arms.
Keeping your core tight and your spine in a neutral position, take the weight off your toes and very slowly dive your body forward.
When your head is level with your arm, reverse the movement.
Muscles Worked
---
16. Tricep Overhead Extension (Dumbbell)
This exercise allows you to get a fantastic stretch through the triceps in the contracted position.
How To Do It
Stand with a single dumbbell held above your head at full extension cupped in your palms.
Keeping your elbows in at your sides, extend your elbows to bring the dumbbell behind your head to full triceps contraction.
Push through the triceps to return to the start position.
Muscles Worked
---
17. Tricep Dips
This version of the dip targets the triceps. To shift the emphasis to the chest, lean forward.
How To Do It
Stand in front of a triceps dip bar and place your hands on the arms supports.
Propel yourself up so that you are in an arm extended position on the bar with your knees bent and feet crossed over. Your body should be straight up and down (do not lean forward).
Bend the elbows to lower your torso toward the floor until you are at full elbow flexion.
Push through the triceps to return to the start position.
Muscles Worked
---
18. TRX Barbell Curls
This version of the curl, keeps constant tension on the biceps through the full range of motion.
How To Do It
Set up your TRX suspension trainer on an overhead upright. Grab the TRX handles with your feet together and in line with the handles. Use a neutral grip so that your palms are facing each other. Lean back to straighten your arms so that your torso is at about a 30-degree angle. Keep your elbows away from your upper body and in line with the shoulder (don't allow them to cave in).
Curl the straps by way of elbow flexion as you bring your torso towards the TRX anchor point.
As you curl, twist your wrists to provide supination of the bicep. In the top position, the palms should be facing away from your body. Your eyes should also be in line with the handles.
Now straighten your arms back out to move into the next rep.
Muscles Worked
Biceps
Front deltoids
Latissimus dorsi
---
19. Triceps Kickback
The triceps kickback allows you to isolate the triceps through a full range of motion.
How To Do It
Grab a dumbbell in your right hand and lean against an upright with your feet in a staggered stance. Your torso should be at a 45-degree angle to the floor. In the start position your arm should be at your side with the elbow bent at 90-degrees.
Extend the elbow back to full extension, squeezing the tricep tightly in the fully contracted position.
Return to the start position.
Muscles Worked
---
Wrapping Up
In this article, you have been presented with a whole raft of exercises beginning with the letter 'T'.
As well as presenting you with some excellent ways to blow up your triceps, these moves will also allow you to strengthen your core, build your lower body and even pump up your biceps.
Use the exercises on this list to help you complete an alphabet challenge workout. Or simply work through them as a circuit, doing 15-20 reps on each exercise.
For more alphabet workouts, see:
Hope this helps!