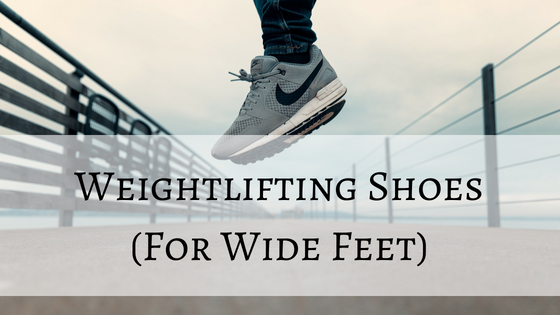 Experienced weightlifters know this, but if you're new to the gym, this might be a surprise to you:
Regular athletic sneakers are actually not great for lifting heavy weights.
It's true!
Specially designed weightlifting shoes (usually with a much more flat or firm sole and/or raised heel) can help you get extra stability and juice out of your lifts. You could totally be missing out on some great PRs wearing your old ratty running shoes for lifting.
But similar to running shoes, FIT is super important in a weightlifting shoe. And if you've got wide feet, you may have trouble finding a shoe that feels right.
So without further ado, let's jump into the best weightlifting shoes for wide feet.
(In a hurry? Here's an overview:)
Image
Product
Details

PF Flyers

Flat heel
Super budget-friendly

Check on Amazon

Reebok Cross-Trainers

Fantastic all-around shoe
Choice of 5 colors

Check on Amazon

My Pick

Nike Romaleos

Get excellent depth for squats
Choice of 7 colors
Top recommended weight lifting shoe

Check on Amazon
---
Why bother with a weightlifting shoe, anyway?
If you've been working out in regular sneakers, you might be totally used to the feel of it. And that's not to say that sneakers are bad for lifting… but there are a couple of really important benefits to a properly fitting weightlifting shoe:
Elevated heel provides more range of motion for squats
Extra support at the ankle
More stable base for squatting or pressing movements
Sometimes straps will prevent any kind of slippage (good socks help, too!)
May help you lift more weight on some lifts
And what's great is that there's very little downside to wearing weightlifting shoes to the gym.
You don't have to be advanced or even intermediate… If you've started lifting weights and learned proper form, a good pair of well-fitted weightlifting shoes can make a world of difference.
(Though, important note, most weightlifting shoes will be horribly uncomfortable for long cardio or other athletic endeavors. In that case, you may want to look into a cross-trainer style shoe… See the second recommendation on this list.)
(Also check out: my guide to the best pants for weightlifting.)
---
A few notes on fit, for weightlifters with wide feet.
If you're going to invest in a weightlifting shoe (they're not necessarily cheap), you'll want to make sure the fit is as good as possible.
Like any kind of shoe for athletic performance, there are a few major considerations:
If the shoe is too loose, your foot will slip and wiggle inside, hurting your overall stability
If the shoe is too tight, you'll be uncomfortable and feel restricted
This presents a tough problem for lifters with wide feet.
You may be tempted to go up a size to accommodate your foot's width, but that may make some parts of the shoe too loose. Go back down a size, and the widest part of your foot will feel incredibly cramped.
You'll want to look for shoes that naturally run wide or have wide sizes available.
That will give you the best possible fit and the best overall lifting performance.
I've compiled a few recommendations of weightlifting shoes for wide feet that should get you started:
---
Best Budget Weightlifting Shoe for Wide Feet: PF Flyers Sneaker
Overview: A lot of lifters love to workout in Chuck Taylors.
The only problem is, they're known to run narrow.
If you have wide feet but want an uber simple, comfortable, flat-soled shoe to lift weights in, you'll want to check out the wide-running PF Flyer.
Why I like it: When it comes to weightlifting shoes, you won't find a more friendly price than this.
These are incredibly comfortable and well-constructed, so you shouldn't need much time to break them in at the gym, and you can expect them to last a while. They'll definitely get the job done and provide you a stable base for pressing and squatting with no extra frills.
Just an effective, pretty cool looking shoe that is known to run a little bit on the wide side.
Potential drawbacks: Very bare bones. No raised heel for extra range of motion and no added ankle support.
Check price and read more reviews of the PF Flyers on Amazon.
---
Best Mid-Range Weightlifting Shoe for Wide Feet: Reebok Crossfit Speed TR 2.0 Cross-Trainer Shoe
Overview: The Reebok TR 2.0 is a true do-it-all shoe.
Relatively flat and firm with a small raised heel, it's great for lifting weights. But it also has just enough contour and cushion to make it a good shoe for running and athletics as well.
If you're not a serious intense lifter and want a shoe with a bit more versatility for your workouts, this is the one.
Why I like it: Versatility. It's not the greatest weightlifting shoe, or the greatest running shoe, but it's one of the best hybrids on the market for exercisers who want to do it all with one pair.
Construction is fantastic and price is relatively friendly. Plus, it comes in lots of fun colors and reviewers note the shoe runs on the wide side.
Potential drawbacks: No ankle straps. Not the best pure weightlifting shoe for serious lifters.
Check price and read more reviews of the Reebok Crossfits on Amazon.
---
Best High-End Weightlifting Shoe for Wide Feet: Nike Romaelos Weight-Lifting Shoe
Overview: For the purists, this is the weightlifter's weightlifter shoe!
The Nike Romaleos have every feature you'd want in a lifting shoe, and are known to run wide to accommodate bigger feet. They're a specialized shoe that does it's job extremely, extremely well.
Why I like it: Raised heel, check. Ankle straps, check. Sweet designs, double check.
This shoe has it all, and reviewers rave about the lifting experience, even claiming it can help you increase PRs, particularly on the squat where it gives you a fantastically smooth range of motion.
For unrivaled stability and feeling "glued to the floor," the Romaelos are the best choice.
Potential Drawbacks: On the expensive side. May run a size small (though are proportionately wider than normal.)
Check price and read more reviews of the Nike Romaleos on Amazon.
---
Wrapping Up
You could spend hours and hours browsing weightlifting shoes on Amazon or your other favorite retailer. There are so many to choose from!
However it can be hard to tell if they'll fit your feet or if they run wide or narrow. Your best bet is to use my list as a starting point and branch out as needed. You can typically return shoes quite easily when the fit isn't to your liking.
For my money, it doesn't get too much better than the Nike Romaleos (Amazon link) if your number one priority for the shoe is lifting heavy weights. Click the link to check them out on Amazon.
Hope this helped!
---
Weightlifting shoes FAQ
Hopefully the guide above helped, but if you have any other questions about lifting shoes, I may be able to cover them below:
Do weightlifting shoes help you lift more?
They can! It's unlikely to make a dramatic difference for recreational lifters (non powerlifters), but you will probably be able to notice some level of better power and leverage when you're wearing proper weightlifting shoes versus sneakers.
They are specifically designed for weight training and to help you get awesome push and leverage across many different lifts. It's probably unrealistic to expect a massive new PR after buying new shoes, but it can help your strength for sure.
Do weightlifting shoes help your squat?
The squat is probably the best exercise to wear good lifting shoes. A lot of them are specifically designed to support you during squats and give you awesome strength throughout the range of motion.
On the other hand, you probably don't need expensive lifting shoes to bench press, for example.
Can I lift weights barefoot?
Yes! Some lifts are better barefoot than others, like the deadlift. Lots of people love to deadlift in bare feet for excellent traction and mind-ground connection (for lack of a better term). You also don't want too large of a heel when deadlifting because it adds to the range of motion and difficulty of the lift.
Heavy squats are probably better done with good shoes on to protect your heels from the immense pressure of the weight bearing down on them. You might find it painful to squat in barefoot, so you might want to at least bring a good pair of squat shoes to the gym for this exercise.
How much are weightlifting shoes?
Above, I provided options in different budget categories. Simple shoes like the PF Flyers or classic Chuck Taylors won't run you all that much, and are cheaper than most running shoes and sneakers. High-end lifting shoes like the Nike Romaleos are significantly more expensive, though you do get what you pay for to some degree.
What lifting shoe is best on a budget?
You could always try a flat canvas-style shoe like the PF Flyers or Chuck Taylors first and see how you like it. If they're not comfortable or don't hold up, you can move on to something better without having invested too much money.
What shoe do you wear to lift weights?
I actually wear the Adidas Powerlift shoes, which I really like a lot. I didn't put them on this list because I have relatively narrow feet and they fit me well, so I'm not sure if they'd be a great fit for this topic.
Are crosstrainers good for weightlifting?
They can be! They're a great all-around shoe that let's you do a ton of different athletic activities in them comfortably. The functions of, say, a powerlifting or squatting shoe are just flat different than the functions of a shoe for running. So cross trainers try to give you the best of both worlds, to mixed results. If you're a casual lifter who also likes to run and play sports, you'll find crosstraining style shoes to be a perfect all-around option. If you're a serious strength athlete, you might want something more specialized.