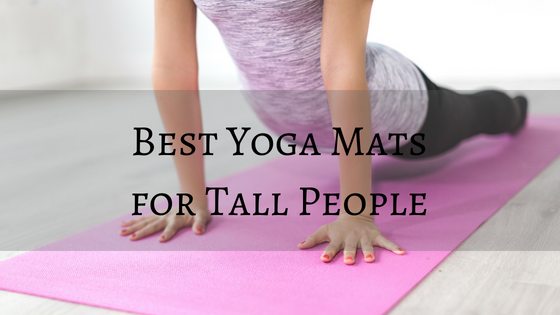 Being tall and also wanting to practice yoga can be tough.
Why?
Because most yoga mats are only around 68" long. If you're over 5'8", you might have some problems.
(Yoga mats for big guys can be especially hard to find.)
Yoga is great for physical health and mental clarity. But it can be hard to focus if you're tall and you keep slipping off of your mat in certain poses.
So here's our guide to the best yoga mats for tall people — they do exist! First, a quick summary:
(Amazon affiliate links below)
Image
Product
Details

Yoga Direct Mat

Budget-friendly
Latex free
Very, very long!

Check on Amazon

My Pick

Healthyoga Mat

Eco-friendly
Fantastic 72" length
Extra wide design

Check on Amazon

Manduka PROlite Mat

Best for very, very tall people
High-end quality
High-end price

Check on Amazon
---
How to buy a yoga mat when you're tall (over 5′ 8′)
Many people assume that a yoga mat is one-size-fits-all.
But the truth is, you're more prone to injuries – and less likely to have fun – if you're using a yoga mat that is too small for you.
A yoga mat helps your hands and feet grip while you move into different poses and positions. Without a mat that fits you, you may have a hard time getting into the right poses. You may also end up with hands, legs, feet, and more on the floor. It's hard to get a good grip that way!
You want to enjoy your yoga experience, no matter your height. So it's time to get a yoga mat that fits your needs.
When you're looking for a yoga mat for a tall person, consider these factors:
Dimensions – in addition to a yoga mat that is long enough for you, you may need one that is slightly wider too. A standard yoga mat has a width of 24". But if you have broad shoulders or need more space, considering the width, alongside the length, is important.
Thickness – yoga mats range in thickness. Some aim to provide more cushion for knees and elbows. Thickness is usually a personal preference, with some aiming for a squishier mat, and others liking just enough cushion for comfort.
Texture – the texture of a yoga mat can help with grip and keeping you in place during poses. Many yoga mats are textured, with alignment lines, dots, or more. Find a texture that is comfortable for you during use. For tall individuals, it is key to find a non-slip mat that helps with grip.
Material – yoga mats can be made of jute, cotton, rubber, PVC, or other materials. PVC is the least eco-friendly of the bunch. All materials have different feels. Someone who is tall may want to test out some different materials to determine what is the most comfortable for them in wider-stance or stretched out poses.
With these criteria in mind, let's take a look at some of the top picks:
---
Best Budget Yoga Mat for Tall People: Yoga Direct Extra Long Yoga Mat
Overview: Made of durable, latex-free foam, the Yoga Direct Extra Long Yoga Mat is great for taller yogis. At 1'5" longer than a standard mat, the yoga mat can accommodate even the tallest person at yoga. This affordable, no-frills yoga mat is great for beginners. It also works for yoga and for floor exercises. Plus, it's machine washable!
Weight: 5 pounds
Dimensions: 84 x 24 x 0.2 inches
Why I Like It: For tall yogis, this mat is great. The size means that people of all heights can be easily accommodated. No more savasana with part of you off of the mat!
The textured surface is designed to help you keep a good grip. The mat works on both carpet and hardwood, allowing you to be able to practice wherever you go.
The material of this mat is also cushioned without being overly squishy.
Your knees will be protected against the floor. But you also won't have to worry about the material squishing down so much that you lose your grip. This is helpful for yoga, but also for floor exercises. If you are tall and need a yoga mat to help with planks and other similar exercises, this is a great place to start.
Potential Drawbacks: The Yoga Direct Extra Long Yoga Mat has the same width and thickness as many standard mats. It calls itself "extra thick," but does not actually provide extra padding.
The surface is also slightly slippery. This can make poses and positions difficult, as anything slippery in yoga could cause you to lose balance. Finally, given its size, this yoga might is heavier than other options.
This might make it more difficult to carry to and from class, especially for those who frequently practice yoga.

Check price and read more reviews of the Yoga Direct mat on Amazon
---
Best Mid-Range Yoga Mat for Tall People: Healthyoga Eco-Friendly Mat
Overview: The Healthyoga Extra Large Yoga Mat provides textured, non-slip mats for yogis of all levels and abilities. Healthyoga has been creating their yoga mats for over ten years. They use a special, eco-friendly material called TPE in their mats, making them recyclable. These lightweight mats are also longer and wider than regular-sized yoga mats. They are easy to use for people of varying body types.
Weight: 2.2 pounds
Dimensions: 72 x 26 x 0.2 inches
Why I Like It: Healthyoga's lightweight mat is easy to take with you, with carry-on straps and velcro straps included.
Its closed-cell surface means that it is easy to clean and stays hygienic, even in hot yoga! It is designed to help support your body without extra strain.
Because the mat is more spacious than standard mats, it is designed to give more cushioning and joint support for people who are taller.
But the body alignment system helps even the tallest individual stay centered during yoga practice. The alignment lines shift your body into the right position. This way you can keep focused on Triangle Pose, while your yoga mat takes care of the rest.
Healthyoga is also a sustainable brand that works to give back to the environment. They use TPE to provide an eco-friendly yoga mat option. But for every purchase of one of their products, Healthyoga plants a tree!
Potential Drawbacks: Because Healthyoga uses TPE, they do warn that there may be a slight smell to the mat when first unwrapped. Although the smell is supposed to go away within two days, some find the smell to be overpowering. The Extra Large Yoga Mat is also only four inches larger than a standard mat.
For people who are over 6', this will remain a problem. In addition, some people find the material to be too easily tearable or markable.

Check price and read more reviews of the Healthyoga mat on Amazon
---
Best High-End Yoga Mat for Tall People: Manduka PROlite Yoga & Pilates Mat
Overview: Manduka's imported PROlite Yoga and Pilates Mat is a lightweight solution to their heavier Manduka PRO. The PROlite is built from eco-certified safe PVC. It comes in both a 71" and 79" style. The mat is 100% latex free. It is also backed with a Lifetime Warranty from Manduka.
Weight: 4.6 pounds
Dimensions: 79 x 24 x 0.2 inches
Why I Like It: At this price point, you want something durable and sustainable. The Manduka PROlite is high-quality and will never flake, peel, or fade. The mat is dense, making for a more grounded surface.
For tall yogis, this can help you stay stable. The Manduka PROlite also has a dot pattern on the bottom of the mat. This keeps the mat in place on the floor so you can focus on your poses, not a moving mat.
The 79" length is also great for taller individuals for wide-legged poses. You don't want to end up partially on the mat and partially on the floor in downward-facing dog or savasana. It can be frustrating to not fit on your mat. But this length is around 6' 7", making it suitable for extremely tall men and women.
Potential Drawbacks: At just short of 5 pounds, the Manduka PROlite may not be the easiest yoga mat to carry around. If you're someone who wants to travel frequently to yoga classes, it may cause an issue.
The 71" length won't work for people under 6' tall, although that can be remedied by buying the larger size. The material of the Manduka PROlite is said to be somewhat slippery.
Manduka recommends doing a sea salt scrub, but that could be asking a lot for people who are just looking for a good yoga mat for their height.

Check price and read more reviews of the Manduka mat on Amazon
---
Wrapping Up
To all of you tall individuals out there, the days of your yoga discomfort are over. Get more out of your yoga – physically and mentally – with a yoga mat designed for your height.
In terms of the above options, I would say that the best choice for most tall people would be the Healthyoga Eco-Friendly Mat. 
(If you're over 6′ 2″ or so, though, I'd get the 79″ Manduka mat (Amazon link)
Although Healthyoga is not the lengthiest mat, it does provide comfort for taller individuals. It is also wider than standard mats, making it more accommodating for certain positions. The body alignment system also helps your body while you focus on your poses.
Plus, it comes from an eco-friendly company, which is always a plus.
Check out the Healthyoga mat (current price & real customer reviews) on Amazon.
---
Yoga mats & length FAQ
How long is the average yoga mat?
Usually, yoga mats are around 68″ long, or 5 feet 8 inches.
That could be problematic for taller folks (over 5′ 9″ or so) who want to get into yoga, as they could have trouble finding a mat.
Plenty of longer mats exist! You just might not find them in your nearby athletics store without doing some digging. It's probably best to order online if you're really tall and need an extra long mat.
How long should my yoga mat be? What's the right yoga mat length for my height?
You want to be able to lie down and stretch out on it comfortably.
It'd be ideal if you can lie down completely flat with your head and toes both on the mat.
A few inches short will probably be OK for most of the poses (after all, this might be hard to do if you're extremely tall.)
In fact, here's a quick yoga mat size chart you can use to get you started:
5′ 8″ and under -> 68″ mat
5′ 8″ to 6′ tall -> 72″ mat
6′ to 6′ 5″ -> 79″ mat
Over 6′ 5″ tall -> 84″ mat or beyond
What else should I consider beside length when buying a yoga mat?
If you're really tall, chances are you'll need a little extra width in your mat as well.
Look for something a little girthier than the usual 24″ (2 feet) wide mat.
If you're tall and slender, 24″ might be totally fine, but you also have the option of buying a 26″ wide mat for a little extra elbow room.
Does thickness matter in a mat?
This will be up to your own preferences. 4 and 6mm thick mats are both quite common, and your own comfort level and style of yoga practice will determine which is better for you.
Thicker mats (around 6mm or more) can give lots of support and cushion, but those things can be crazy heavy and hard to lug around. Thicker mats are really best for pilates.
For hot yoga, for example, you might prefer a thinner mat that can help keep you cool.
How much does an extra long yoga mat cost?
Above,  I've given options in three different price ranges, so you should find something for your budget! If you're willing to pay a little extra, you'll get something a little more durable and high quality. Though if you're very tall, your top priority might simply be finding something that's long enough!
Typically, you can get lower end yoga mats around $20 and higher end ones for over $100.
What are some other yoga mats I love?
I recently tried both the Liforme Yoga Mat and the B Yoga Mat and have wonderful things to say about both of them.
Hit the link for my full reviews!