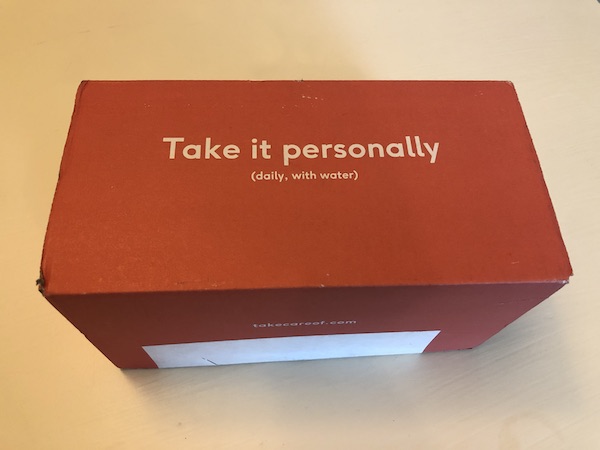 You've probably seen ads for Care/Of vitamins on Instagram.
They're all of the place these days!
They promise a personalized vitamin regimine, built just for you, that will help you feel your best each and every day.
It all sounds a little fancy, right?
How much do Care/Of vitamins actually cost?
Care/Of vitamins cost, roughly, about $30-50 per month. It all depends on your specific vitamin stack along with which supplements, extras, and powders you're taking each month, as well.
My monthly stack when I tried the service for a month (read my full Care/Of vitamins review) came out to $44 per month.
I'll break down the exact costs and specifics below!
(Or you can start here with your free personalized quiz.)
---
My Daily Vitamin Stack & Supplements
After going through the (extremely detailed and thorough) Care/Of vitamins quiz, here's what the company recommended for me.
I had mentioned I was mostly interested in better performance in the gym and recovery from my workouts. Otherwise, I'm a pretty healthy and active 32 year old man.
So my recommended stack was:
Ashwaganda 600mg
To relieve stress, tension, and promotes muscle endurance and overall fitness.
Vitamin C 250mg
To bolster my immune system and aerobic endurance.
Cranberry powder 500mg
To support urinary tract health.
(Hey, I am getting older, after all.)
Rhodiola 250mg
To lower stress levels and reduce fatigue.
Magnesium 400mg
To support a good night's sleep.
Whey protein powder
For extra protein to add in workout recovery.
Maca root powder (5 packets)
To support and promote high energy levels and athletic performance.
I decided to try everything except the whey protein powder (I prefer to get my protein from real foods).
Care/Of sent a month's supply, enough for me to take each vitamin once per day, along with 5 of the maca root packets.
In total, my stack came out to $44.
The actual vitamins were $37 for the month, and the maca root was an extra $7.
If you decided to order your full recommended regimine, or if your stack was more robust for one reason or another, you Care/Of cost could easily total over $50 per month.
On the other hand, you're always free to drop certain supplements from your order and bring the cost down.
---
Can you order Care/Of vitamins a la carte?
Sort of, yes!
If you take the quiz and set yourself up with an account and a regular Care/Of monthly order, you can add or subtract anything you want to your box.
You can add vitamins to your order from anywhere from $5 to $22 each, including:
Vitamin B12
B Complex
Vitamin C
Vitamin D
Prenatal
Vitamin K2
Multivitamin
Magnesium
Calcium Plus
Iron
Zinc
Extra herbs are available for your Care/Of box from about $7-10, including:
Ashwaghanda
Rhodiola
Turmeric
Elderberry
Milk thistle
Garlic
Evening primrose
Saw Palmetto
Cranberry
You can also add probiotics or specialty vitamins to your order from $8-19 each.
---
My experience (Is Care/Of worth it?)
Overall, I really enjoyed my time trying Care/Of vitamins, and I felt physically pretty good while I was taking my daily stack!
You can check out my full review for way more detail, but I'll give you a few quick pros and cons, what I liked and what I didn't:
Care/Of Pros:
I had great workouts! The stack of supplements and vitamins they sent really did help me perform better in the gym and experience better recovery. A+ for this aspect of the service!
My mood was great. I definitely felt energetic and, overall, in a light mood most days when I was using Care/Of. It's hard to contribute it 100% to the vitamins, but the positive correlation was good to see!
Professionalism. I loved the packaging and the high-quality sourcing of ingredients. I definitely felt good about handing my money over to these folks.
Care/Of Cons:
Taking the pills sucks. Some of the pills were pretty big. I'm not bad at taking pills, but it wasnt the most fun thing to do in the whole world.
A little expensive. I'll be honest, if you decide to take Care/Of and keep up with it every month, it'll start to really add up in costs. It's hard to put a price on your health and wellness, but I would definitely try it out to see if you get any benefits before you get yourself on a regular delivery. (Remember to pause your subscription if you're not sure yet!)
---
Wrapping Up
Depending your the results of your personalized vitamin quiz, you should expect to pay $30-50 per month to try Care/Of Vitamins.
My personal regimine came out to about $44, and that's after I removed one of the powders (whey) from my order.
Any other questions about Take Care/Of? Hit me up in the comments!
And don't forget to take your personalized quiz right here and see what you get!