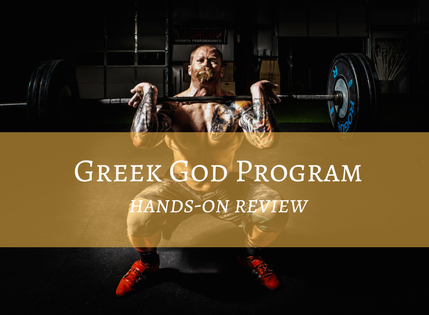 In a few paragraphs, I'm going to dive in to my review of the Kinobody Greek God Program, why I decided to give it a try, and whether or not it worked for me.
(Major Spoiler: It did.)
But first, here's a quick overview of why you're really here!
Overall, the Greek God Program is an awesome lean bulking system that gives you everything you need to pack on muscle the right way.
There's an absolute ton of content here, several different workouts and training phases to work through and plenty of nutritional guidance. I wish there was a bit more help when it came to lifting form and ideas on breaking plateaus, however.
| What I Liked | What I Didn't Like |
| --- | --- |
| The program works! (I gained 20-25lbs on key lifts) | Not a lot of technique & form pointers |
| Only 3-4 hours in the gym per week | A little bit pricey for a workout program |
| TONS of content and workout variations | |
| Amazing money-back policy (No risk) | |
Get the full Greek God Program right here.
---
What is the Greek God Program?
The Greek God Program is a lean bulking weightlifting and nutritional program created by Greg O'Gallagher of Kinobody.
The program aims to, surprise!, give you the body of a 'Greek God,' or in other words, what a lot of male Hollywood actors look like for action movie roles.
Does the program work?
Yes.
Greg knows his stuff, and his programs are well designed. The progression system works well as you continue to build strength, and the nutrition plan is right on point for gaining muscle while minimizing fat gain.
I'll get into my own experiences with the program below. But you can also check out a lot of great Greek God transformations on the Kinobody Instagram page.
(Oh, and if you're interested, check out the Kinobody Goddess Toning program for women.)
How hard is it?
If you can make it to the gym 3 days per week for about an hour each time, you can do this program.
Consistency is hard, but that's really not that big of a commitment.
Greg's approach to lean bulking is also pretty easy to follow. This isn't the kind of program where you'll be eating 6 meals a day and hitting 5,000 calories.
He teaches you how to eat just slightly above your maintenance calories for a finely tuned lean bulk.
Is the Greek God Program a good value?
The program costs $69, but you get a lot for your money here.
Not only do you get the workout program, along with video instructionals, and the nutrition plan; Greg also includes several add-ons to the program to help you take things to the next level.
Why buy the program vs just following along on YouTube and Instagram?
You could probably piece together the majority of the workouts in the course by following Greg on social media.
But you'd be missing out on a few key features that make the program well worth the price:
Kino Warrior community on Facebook: Get access as a paying customer and get support from Greg and all the Kinobody coaches, plus advice from fellow community members on troubleshooting, staying motivated, and busting plateaus.
Accountability: When you put your money where your mouth is, you're more likely to follow through and stick with the plan. Trust me, I've been there myself.
Tips & hacks: The program is full of advice, fat loss hacks, and troubleshooting tips for your training that you won't get anywhere else. Greg has years of experience and is a damn fat-loss ninja, so hearing it straight from him is worth its weight in gold.
Check out the full program here (100% money back guarantee).
---
Now, really quickly, a little on my lifting background & how I'm approaching this review.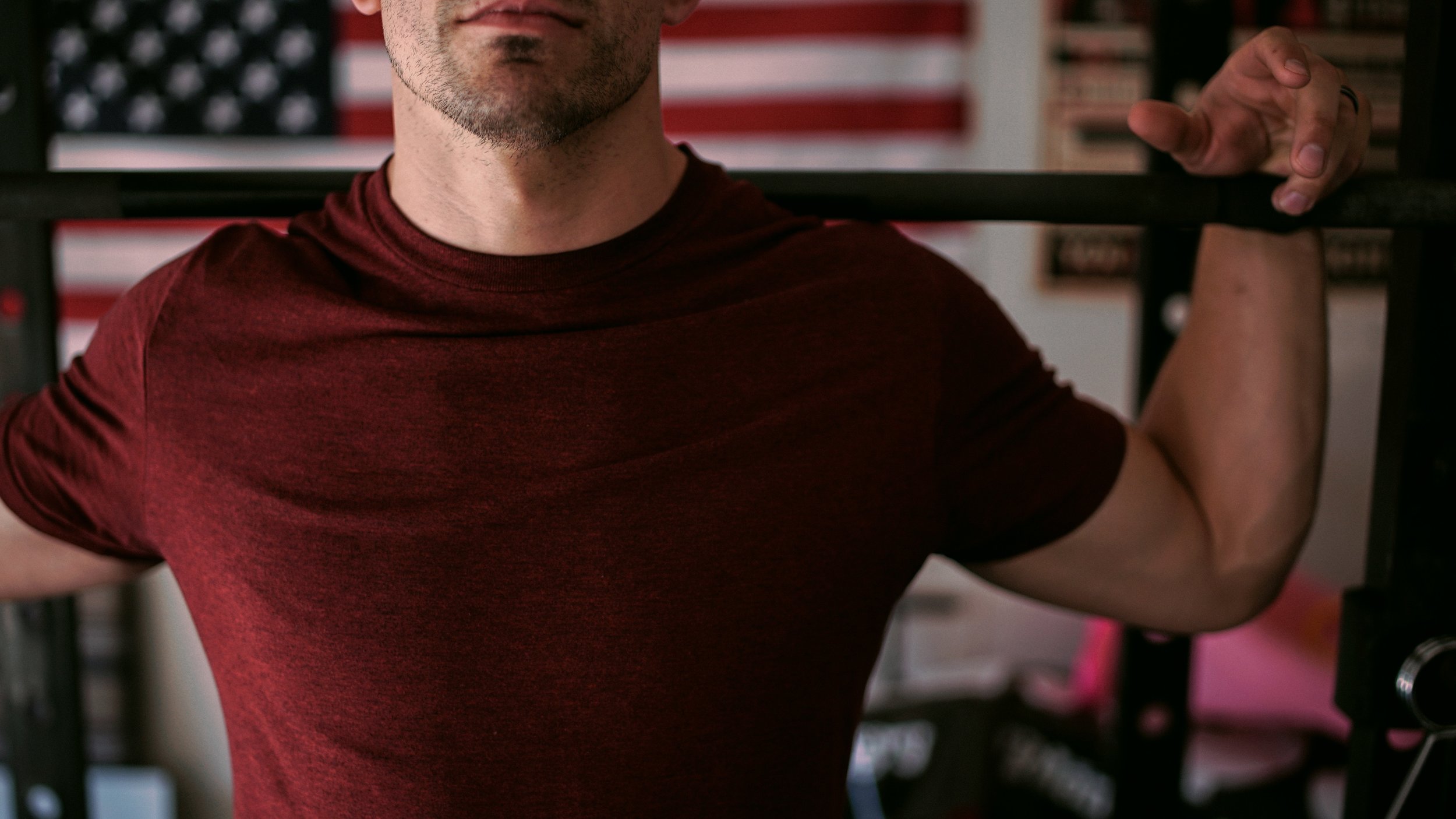 I started lifting almost exactly a year ago.
Having absolutely no idea what to do and being intimidated by the idea of wandering around in the free weights section of the gym, I turned to a very simplistic variation of a 5×5 program.
I stuck to the basic compound movements, doing only 5 reps at a time, and progressed linearly for a while.
And while I was definitely getting stronger, I didn't feel like I looked that different, and I had no idea what to eat or not eat.
(For reference, I am 5′ 5″ and was kind of doughy but not particularly overweight, though completely untrained when it came to weightlifting.)
In the spring of 2017, after following Kinobody on YouTube for a couple of months, I started the Kinobody Warrior Shredding Program in an effort to cut down for the summer.
Following that program, I lost 15 pounds of almost pure fat, and was even able to gain some strength on the key lifts.
I got down to a very svelt and toned 130 lbs by the end of the summer.
But my progress stalled.
The Warrior Shredding Program is a solid program! But you can't keep losing weight forever without sacrificing muscle and strength.
With the fall coming around, it was time to start eating more and gaining some muscle. And the Greek God Program sounded right up my alley after being very pleased following the Warrior Shredding Program.
(You can read my full review of the Warrior Shredding Program here.)
---
What you get with the Kinobody Greek God Program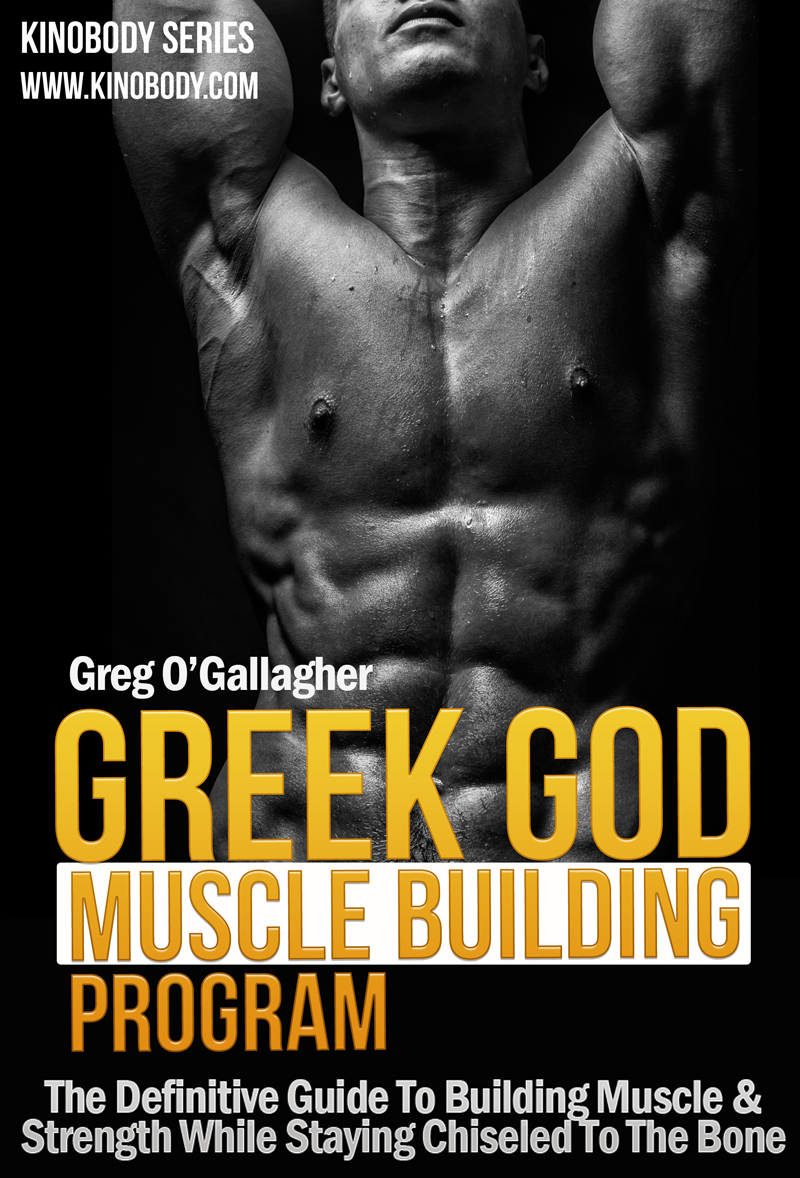 Buckle up, because there's a lot involved in the Greek God Program.
First, you'll get an intro video where Greg welcomes you to the program and lays out what lies ahead. You'll also get access to a private members forum for help and support.
Next up is some reading about the philosophy behind the program. How he designed it, why, and how it's different from most bulking programs.
Now it's time to jump into the program! Greg breaks down each of the key exercises involved and why they're chosen, how to use Reverse Pyramid Training for progression, and finally lays out the exact split routine you'll be using in the gym. (There are also videos of Greg doing each of the workouts for instruction.)
From there, Greg dives into some exciting ways to amp up the Greek God Program if you get stuck or are looking to take things to the next level, including: specialization routines (to really maximize one specific muscle group) and what he calls MEGA training, or pump training, where he helps you incorporate higher volume to pump those muscles up!
Finally, the program wraps up with the Greek God program diet, where you'll learn how to calculate the appropriate amount of calories for a true lean bulk (minimizing fat gain!) and how to set your macros. There are actually a few different options here so you can try what works for you.
---
How you get it
The Kinobody Greek God Program is hosted on Teachable, a pretty popular online learning site.
That makes browsing through the program information pretty enjoyable and makes it easy to jump around between sections.
(That also means there's no PDF of the Greek God Program, so stop looking for it!)
It's nice presentation wise, though I did find Teachable to be a tad glitchy here and there.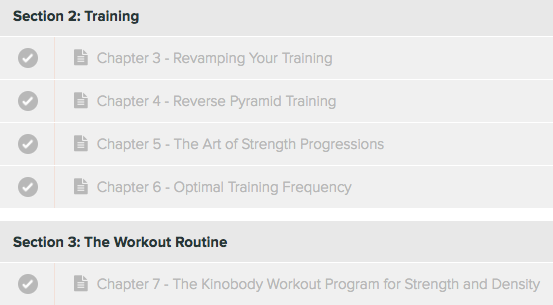 ---
My experience, results, and transformation on the Kinobody Greek God Program
I've been on the Greek God Program for about two months now, and I have to say it's going GREAT.
I tend to take a very loose approach with the nutrition.
I eyeball the calories according to the Greek God nutrition plan, make sure to keep protein high, and make sure I'm not skimping on carbs and fat. And the approach has served me pretty well.
As soon as I started the lean bulking program, I noticed an extremely rapid gain of about 3-4 pounds.
Greg says this is to be expected as it's mostly water weight and fullness from the additional food.
In total, over just a little more than 4 months, I added about 14 pounds of scale weight, which should equate to about 9ish pounds of muscle.
My strength on most of the key lifts has gone up around 20-25 pounds or so, and my accessory lifts in particular have FLOWN up.
Here's roughly my one year progress on Kinobody.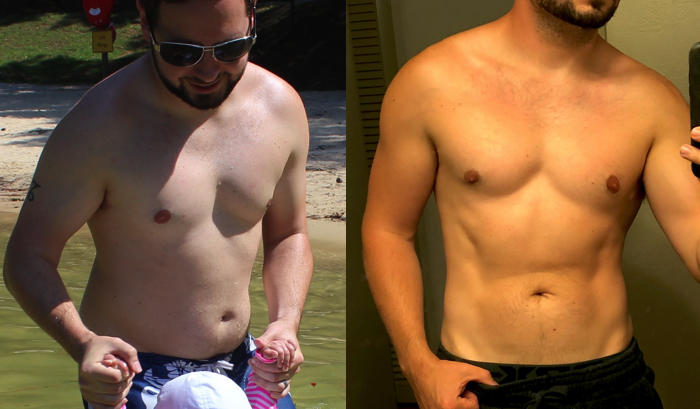 I'll update this space as I continue to progress and as soon as the progress becomes visible.
Grab the Kinobody Greek God Program right here.
---
Pros
A lot of content:
This program is meant to last you a while. You'll make great gains following the standard program, but then it gives you lots of options to bust plateaus, swap exercises, focus on a lagging body part, etc. You won't get bored of this any time soon, making it a great value.
Reverse Pyramid Training works:
Follow the program. Don't try to go too fast and be a hero. Add weight the way Greg suggests and you'll make steady, solid progress.
Aesthetics!
The guy knows how to build a great physique. If you're into competitive powerlifting or overall strength and power, this isn't the program for you. But if you want an athletic and well proportioned body that's also very strong, and staying lean matters to you, definitely check this out.
---
Cons
No 'big 3':
I only put this as a con because some people care about this stuff. But in this program there's really no sign of the big 3: squat, deadlift, bench press. You may do sumo deadlifts, and you'll do incline bench press, but there's no emphasis on competition lifts here. Just so you know.
Little instruction:
Greg provides videos to accompany the workouts, and while it's good to see them done properly and he gives a few tips, the videos are light on actual instruction. One of the movements he suggests you do is the power clean, and in the video he suggesst you find someone to teach you how to do it :-/
---
The Verdict
I highly recommend the Kinobody Greek God Program.
There's a TON of content here and a lot of training guidance to help you take your physique from 'meh' to seriously impressive.
The progression system works, the nutritional advice will help you get steadily stronger without adding a ton of fat, and the specialization routines will give you a great chance to focus on a 'wow' muscle group when you're ready for that.
---
Kinobody FAQ
Where can I see more Greek God transformations?
Head over to the main Greek God Program sales page to see more transformations and testimonials from real people who followed the program.
What's the difference between the Greek God program and the Advanced Greek God Program?
The Advanced Greek God Program gives you some workout variations to try out once you've completed the regular GGP.
Specifically, you'll crush the shoulders hard for the classic Greek God look!
The advanced program has two phases, one where you utilize a low volume workout routine with a small caloric surplus, and phase two where you up the lifting volume and up the calories.
Greg has tweaked and refined the program over the course of years to help more advanced lifters experience awesome gains, so if you've been training for a while, try this program out!
What is the Greek God Program 2.0?
Greek God 2.0 is a smaller update to the GGP program, rather than a completely revised program like the Advanced Greek God Program.
You'll find mostly the same stuff in version 2.0, but Greg goes into some detail about his newly developed Kino Rep training for getting volume in on smaller muscle groups, and a new three-day split to switch things up (versus the two-day split of the original GGP).
What are the Kinobody key lifts?
In all of the Kinobody programs, you'll be building or maintaining strength on what Greg calls the "key lifts," but it's particularly important on the Greek God Program.
The whole goal of GGP is to build insane strength on the:
Incline bench press
Weighted pull-ups, chins, and variations
And shoulder presses
Along with some single leg work for a well-rounded physique.
Who should do the Greek God Program?
The GGP is perfect for anyone who's naturally skinny or skinny-fat, or if you've been cutting for a while and have gotten pretty lean and toned.
If you've got some fat to lose, start with the Warrior Shredding Program or even Aggressive Fat Loss, first.
---