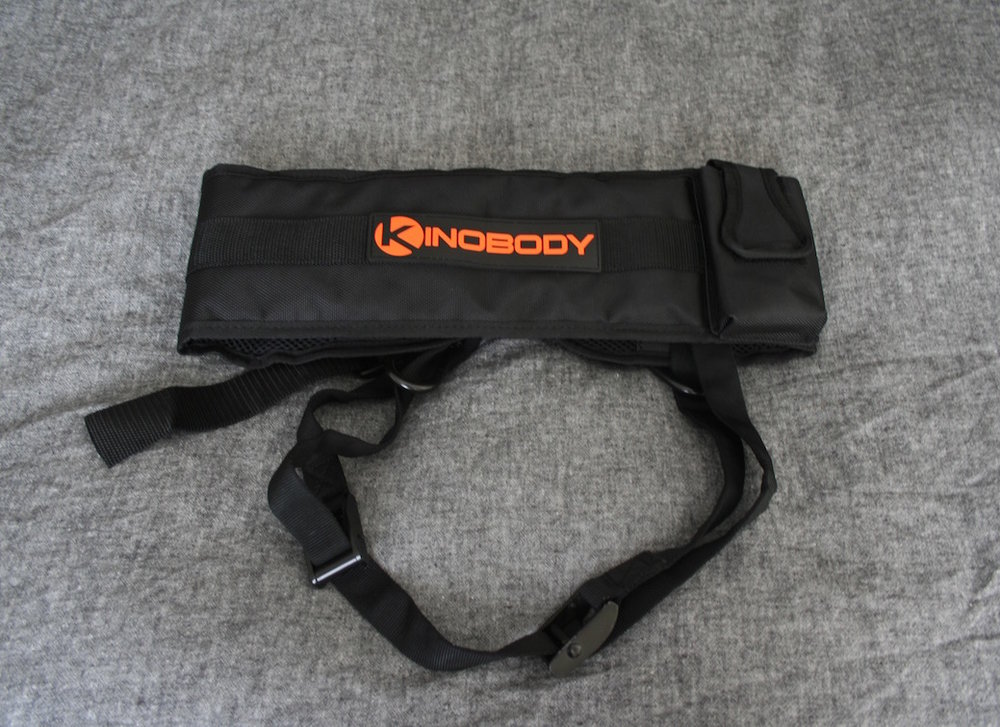 Hey guys, I'll dive into my review of the Kinobody Dipping Belt in just a second.
Overall, the Kinobody dipping belt is an amazingly well-made lifting accessory that's easy to use and holds up exceedingly well over time. I've been using it now for two straight years without a single problem.
But before we get into more details, a little bit of background…
I have been following the Kinobody programs for a little under a year now, and they've helped me totally transform my body.
(If you want, check out how I lost 15 pounds on the Warrior Shredding Program and gained muscle on the Greek God Program.)
One of the key movements in both programs — and many other well-designed lifting routines — is the weighted pull up or weighted chin up.
Weighted pull ups are FANTASTIC for growing a wide and powerful back. Honestly, they are one of the lifts I am most proud of… Most people can't do more than one or two bodyweight pull ups, let alone with heavy weights hanging off of them!
There's just one little problem…
Most gyms only have one weight belt for everyone to share. If it's not being hogged by someone else when you need it, you're extremely lucky.
But even still, the weight belts at the gym are usually worn out, cheap, and uncomfortable.
---
Enter: The Kino Belt.
(Amazon link in table below)
| | Style | Fits Waist | Weight Limit | Price |
| --- | --- | --- | --- | --- |
| Kinobody Belt | Nylon strap & buckle | 40″ | 240lbs | $$ |
| Harbinger Belt | 30″ chain | 40″ | 150+lbs | $ |
| DMoose Belt | 36″ chain | 40″ | 225lbs | $ |
Greg O'Gallagher, the man behind Kinobody, was fed up with the cheap belts at his gym (just like I was). So he decided to make his own.
After seeing Greg promote the belt in his videos and Instagram stories, it looked like something I should try.
(Full disclosure: Kinbody sent me a free Kino Belt to try in exchange for an honest review. Below is my unbiased opinion and experience using the belt, and I am not obligated to give a positive review.)
---
What's the Kino Belt made of and how does it work?
This belt is a little bit different than the belts you're used to seeing lying around the gym.
Those are usually some kind of faux leather or canvas with a short, low quality chain. The weights hanging from the chain are used to pull the belt taught across your waist, which can be uncomfortable and prone to slipping when lifting heavy. (They can also pinch your groin… ouch)
The Kino Belt is made of an uber-comfortable padded waistband lined with a breathable mesh. Before lifting, you adjust it to fit your own waist using the tightening straps, and when you're ready to go, just clip it on.
Key spec: The Kino Belt fits waists up to 40″
Instead of a bulky chain, the Kino Belt uses a tough, durable nylon strap to hold the weights. At each end of the fully adjustable strap is a military grade carabiner that clips into one of several metal loops on the belt.
Key spec: The Kino Belt is rated to hold up to 240 pounds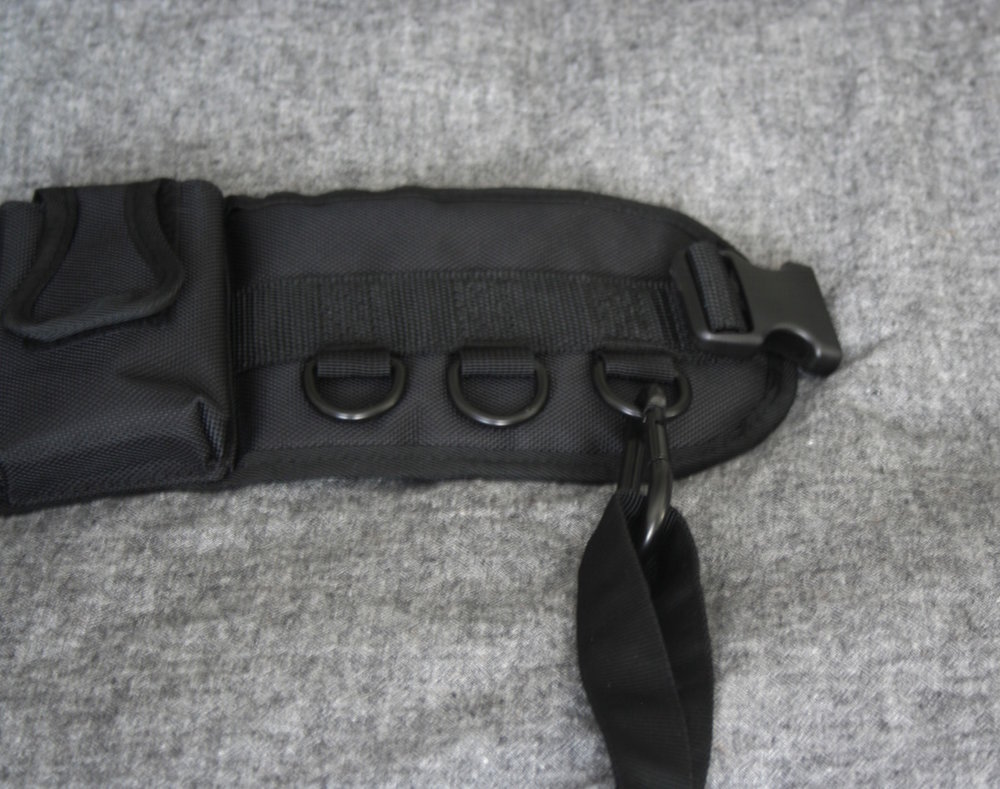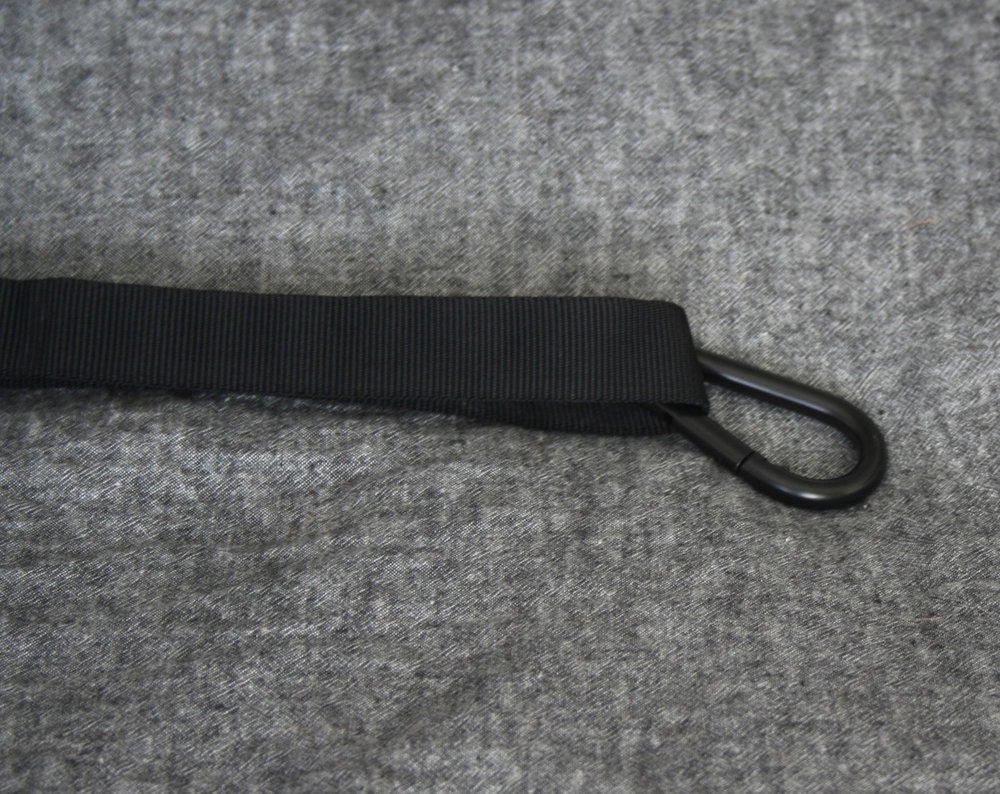 On the backside of the belt is a bright orange Kinobody logo stamped in rubber.
On the side, you'll find a cell phone holder with velcro cover.
---
My experience using the Kinobody belt
I'm currently running the Kinobody Greek God Program and have made significant progress on the weighted pull ups. (This belt can also be use for other heavy lifting movements like weighted dips.)
---
If you're interested in joining one of the Kinobody programs, I highly suggest using the Kinobody Physique Builder Quiz… it'll help you choose the right routine for your body type, and give you a super-easy $20 off the program instantly. Click the link to get started.
---
I got a shipping notification from Kinobody that my belt was on its way, and not 3 days later, it was waiting for me on my doorstep! Not bad considering Kinobody is based in Canada.
I pulled it out of the box (it comes fully assembled and ready to go) and headed off to the gym.
I found that the Kino Belt fit easily into my gym bag and was a breeze to carry around. It is a little bit thicker and more involved than your usual weight belt, but the materials are extremely high quality and lightweight. It only weighs a pound or two (the Amazon page lists its shipping weight as 1.4 pounds).
If you're not the kind of person who is used to taking a bag to the gym, this might be an adjustment to bring your own piece of equipment. But the belt is light and you can put it aside when you're done with your weighted pull ups or weighted dips.
Trying it for the first time: Damn is this thing comfortable! I am so used to the low-grade weight belts at my gym (and I go to a YMCA, which is not exactly known as a powerlifting gym) that are stiff and awkward to use.
The Kino Belt is all yours. Once adjusted, it fits snugly around your waist perfectly, and the extra padding on your back feels like a dream when you load up those heavy weights.
The strap itself is 100% customizable. It can be shortened and lengthened to accommodate more or less weights, and depending on your preference. You can also choose which of the clip rings on the belt to use (the the strap can attached wide, out by your hips, or narrow near your groin, or anywhere in between… however you like it!)
It felt great to have so much control.
I did manage to hit a PR on my weighted pull ups while wearing the belt. I'm not sure if I can fully credit the belt for that, but I certainly felt great while doing the lift.
UPDATE:
I've been using the belt every single week for about 2 years now, and it's held up AMAZINGLY well.
Durability – not a concern!
---
Pros of the Kino Belt
There is a lot to love about owning your own Kinobody belt.
Never have to wait for someone at the gym to finish with the "loaner belt"
It looks cool as hell
Comfortable! Great padding and support on your lower back
Super high quality and durable
Adjustable, customize the belt to your own body
Fantastic weight distribution
Cons of the Kino Belt
The drawbacks are few, but important to note:
Only fits waists up to 40″
Though lightweight, it's little bulkier than your usual belt. (The cell phone holder is cute but probably unnecessary)
Strap buckle may not fit through plates with smaller openings
Costs a little more than other belts
---
My final word on the Kinobody Belt
Guys, this is a great piece of equipment. This isn't some crap belt that Kinobody slapped their logo on… it's a really well designed and meticulously thought out lifting belt that addresses a lot of the issues its competitors have.
It may not revolutionize your training or add 20 pounds to your pull up overnight, but if you're looking to invest in yourself and your training, get a high quality, comfortable belt that will hold up over time as you continue to grow stronger.