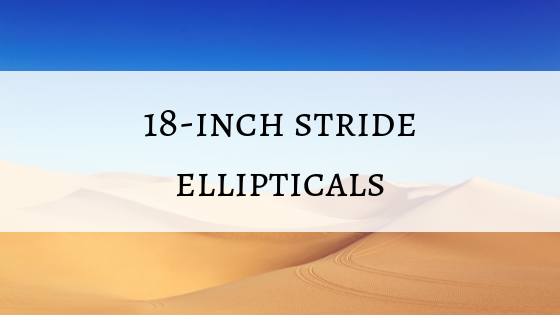 Elliptical workouts are fun!
Safe!
Low-impact!
And crazy effective at burning calories and building full body strength and endurance.
But only if you do them right.
If you're shopping for an elliptical to use at home, and you're on the shorter side, you'll want to pay close attention to stride length before you pull the trigger and make a purchase. Getting an elliptical that fits your body and leg size properly is the key to an effective and safe workout.
For shorter people, an 18-inch stride elliptical should be ideal. These are best suited for people a little under 5′ 3″ tall, or so. Here are a few of my favorites that fit the bill:
Best Budget Elliptical: Exerpeutic 1318 Elliptical Trainer
Best Mid-Range Elliptical: ProForm Smart Strider 495
Best High-End Elliptical: Nordictrack SE9i Elliptical
(Amazon links below)
| | Weight | Dimensions | Stride Length | Price |
| --- | --- | --- | --- | --- |
| Exerpeutic 1318 | 84lbs | 55″ L x 25″ W x 64″ H | 18 inches fixed | $ |
| ProForm 495 | 180lbs | 77.5″ L x 30″ W x 80″ H | 18 inches fixed | $$ |
| NordicTrack SE9i | 218lbs | 78″ L x 31.9″ W x 66.4″ H | 18 inches fixed | $$$ |
---
A Brief Guide to Elliptical Stride Length
Stride length on an elliptical machine is really pretty simple. No big surprises here.
It's a rough measurement of the length of your stride according to your leg size and/or height, and when using the elliptical it's the maximum distance between your feet at the peak of the elliptical's range of motion.
There are a couple of reasons this is important. For starters, the right stride length for your legs is just going to feel better, smoother, and more comfortable. Next, you put yourself at risk for injuries if you're stretching to reach a stride length that's too long for your legs.
But don't worry. No need to lay out a tape measure in your living room and try to get a precise reading of how many inches you take per step! There are a couple of simple guidelines that can help you pick the right stride length when buying an elliptical:
Stride length = 16 to 18 inches: This is considered a shorter than normal stride length, and it's ideal for riders under 5′ 3″ or so. You may also want to consider an elliptical in this category if you're average height but have short legs. Below, I'll go into my favorite machines that fit the bill.
Stride length = 20 inches: This is the gold standard and starting point. It's considered the appropriate stride length for most people of average height or just above/below. If you're in the ballpark of normal height, this should be just fine for you.
Stride length = 22+ inches: If you're over 6′ 3″ or so, you may want to explore this category of stride lengths. You can go all the way up to 26 inches or so if you need to, but for most tall people, 22 inches is going to be plenty of room.
Stride length = adjustable: If you're just not sure which stride length to pick, or you live in a house with multiple people of different heights who'll be using the machine, your best bet is to find an elliptical that can adjust its stride length for each rider.
One quick tip: Head to your local gym (or exercise equipment store) and check out some in-person elliptical machines to get a feel for what you like.
Height is only one factor in choosing the right stride length. The best way to know for sure is to see which feels the best for your own body.
Now let's get into the best ellipticals with an 18-inch stride!
---
Best Budget 18-inch Stride Elliptical: Exerpeutic 1318 5000 Magnetic Elliptical Trainer with Double Transmission Drive
Overview: If you're looking for a good, but affordable, elliptical for people with shorter legs, you'll be hard-pressed to find a better option than the Exerpeutic 1318. It's a very basic but highly functional machine that won't take up a lot of room and should fit great if you're around 5 feet tall or so.
You can get it quickly and easily from Amazon and even spring to have it delivered in your home by an expert to save some time.
Stride Length: 18 inches fixed
Footprint: 55″ length x 25″ width x 64″ height
Why I Like It: This is about as inexpensive as I would go if I were buying an elliptical for my home. The quality and construction on this machine are great, which makes the price a fantastic value.
Here are a few other things I dig about the Exerpeutic 1318:
small footprint (good for tight spaces)
12 built-in workout programs
LCD monitor with time, distance, RPM, heart rate, and more
ability to set 4 different profiles (good for multi-user homes)
24 different resistance settings
roomy pedals for extra stability
built-in wheels for easy transportation
Reviewers on Amazon are pleasantly surprised and impressed with the quality of this machine, given its price point. Many of them note that they were worried its small frame and lightweight (only 84 pounds) would make it wobbly and unstable, but the truth is quite the opposite.
The packaging is also said to be solid and assembly pretty intuitive. If you're handy and have a few tools lying around, you shouldn't have too much of a problem putting this one together.
Potential Drawbacks: This is a lighter and overall cheaper machine than some of the ones I'll recommend below, so stability and noise might be on the higher end than more expensive competitors.
Some reviewers wrote that the resistance on this machine is very strong compared to others they've tried.

Check price and read more reviews of the Exerpeutic 1318 on Amazon
---
Best Mid-Range 18-inch Stride Elliptical: ProForm Smart Strider 495 CSE Elliptical
Overview: If you're willing to pay just a little bit more, you'll be rewarded with a truly excellent machine from one of the best names in home fitness. ProForm is highly respected and ellipticals like the 495 are exactly why.
You'll get a lot of the standard features here, and an 18-inch stride length (perfect for us shorties!), and a folding design, which is amazing for saving space.
Stride Length: 18 inches fixed
Footprint: 77.5″ length x 30″ width x 80″ height
Why I Like It: This is a really great, affordable rear-drive elliptical option. In addition to having a shortened stride length, here are some of the other awesome features of this machine:
18 resistance levels
folding, SpaceSaver design (great for small spaces)
comes nearly fully assembled out of the box!
great design on the LED console and read outs
syncs up with iFit fitness tracking
Reviewers love the smooth, quiet ride from this machine. That's a testament to high-quality construction (the biggest cause of elliptical noise is usually cheap parts or overall poor quality).
Potential Drawbacks: While assembly is super easy, this elliptical is quite heavy at nearly 200 pounds. You'll need a second set of hands unless you spring for in-home delivery.
The iFit capabilities on the console are really cool, but you'll have to pay extra for the app and subscription to get the most use out of it.
(Though iFit is totally optional to get a great workout on this machine.)

Check price and read more reviews of the ProForm Smart Strider on Amazon
---
Best High-End 18-inch Stride Elliptical: Nordictrack SE9i Spacesaver Elliptical
Overview: This is one of my all-time favorite ellipticals (I recommend it in a bunch of my articles) because it's pretty much the best one you'll find at regular consumer prices.
If you're willing to drop thousands of dollars, sure, maybe you'll find something better. But Nordictrack pretty much owns the consumer elliptical market and this is their top-seller. It's got the 18-inch stride you need, plus almost every other feature you could dream up, plus some of the best quality around.
Stride Length: 18 inches fixed
Footprint: 78″ length x 31.9″ width x 66.4″ height
Why I Like It: There's very little not to like about the SE9i. It's top-of-class in terms of affordable ellipticals, and jam-packed with features including:
folding, SpaceSaver design
low step-up height (for low ceilings)
built-in fan
on-board speakers
bluetooth connectivity
Lifetime warranty
easy "out of the box" assembly
30 built-in workout apps
7″ touchscreen console
and more!
Reviewers online rave about this machine and say it's as close to "club quality" or commercial as you can get. The stats back that up, with the machine weighing a little over 200 pounds and holding well over 300!
The easy assembly is also a huge selling point of this machine, which is another reason it's great for consumers. You might need an extra hand because of its heft, but you likely won't need an engineer to install this bad boy!
Potential Drawbacks: The SE9i is at the top end of things when it comes to price. It's the most expensive on this list by a wide margin, but still a great deal cheaper than commercial grade machines.
This elliptical also offers iFit integration, but again, the marketing doesn't always make it clear that that's an extra, paid service. Watch out for that.

Check price and read more reviews of the Nordictrack SE9i on Amazon
---
Wrapping Up
Stride length can sometimes be a tricky thing to figure out when buying a home elliptical, but just remember the general guidelines:
20 inches should be fine for most people
18 inches is ideal if you're a little shorter (5′ 3″ or so)
You can go as low as 16″ in some cases if you're very, very short
If you're around 5′ 5″ or taller, you're probably going to want the standard 20-inch stride
The best way to know for sure is to go to a gym or equipment store and try these out in person
One important warning: 
Reviews online for machines as complicated as ellipticals are all over the place. Some people use the ones above for years without a problem, others get defective machines delivered on day one and take to the Internet to scorch the company. Read with caution and make your best judgment.
This is one of the reasons I always recommend going with a trusted brand (like NordicTrack) who will likely be happy to fix any issues or customer service problems.
All that being said, I find myself recommending the NordicTrack SE9i again as my favorite 18-inch stride elliptical. It's top of the line, and while you pay a pretty penny for it, it's a machine you'll get lots of use out of for years to come.
Get the full specs and read customer reviews of my favorite 18-inch stride elliptical, the NordicTrack SE9i on Amazon.
Hope this helps, everyone!