The Peloton bike is an awesome tool for getting in better shape at home.
But a growing number of folks are actually using their Peloton as a training tool for real world and road cycling.
And why not? It's convenient, weather proof, and offers an unlimited variety of cycling or spin workouts.
But not all Peloton rides and instructors are suited for real cyclists — you have to know where to look for the best rides.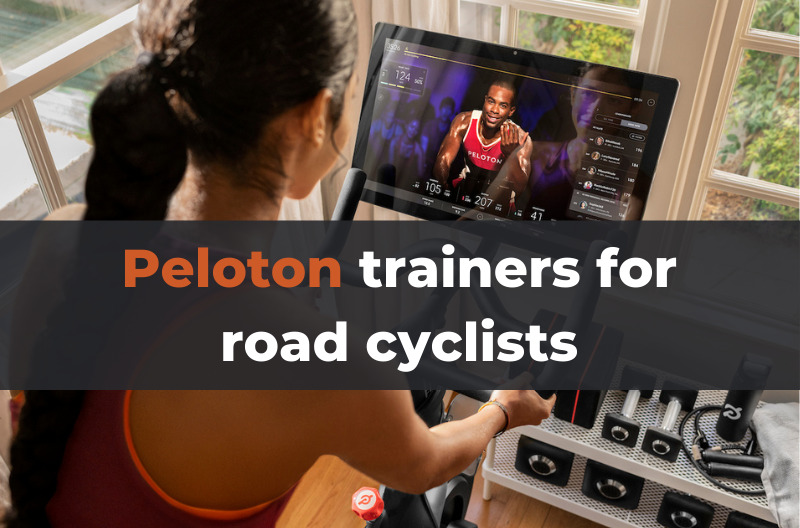 The best Peloton instructors for road cyclists are:
Matt Wilpers
Denis Morton
Christine D'Ercole
Robin Arzón
These no-nonsense trainers offer butt-kicking workouts along with tons of form and technique pointers, from breath to body alignment.
Let's take a look at what makes each of them a great fit for real world cycling.
---
Matt Wilpers
Normally I don't write these lists in any particular order.
Under any category of instructor, there are usually several terrific, can't-miss options.
But Matt Wilpers is hands-down the best, number one Peloton instructor for road cyclists looking to improve their performance.
He's not particularly chatty or overly entertaining — he's all business, which you'll appreciate if you think Peloton instructors talk too much.
His rides are packed with technique, form, and breathing tips. He gets you in the right position, and while his rides aren't the hardest, they help you come back stronger each and every time.
If you're a cyclist, you might enjoy Matt Wilpers' Power Zone training rides — they're customized to your specific output levels to improve your performance at different intensity levels.
---
Denis Morton
Denis is very much in the mold of Matt Wilpers.
He's a more laid back instructor with a low key style and a good emphasis on proper form and technique over intensity..
Don't get me wrong — some of Denis Morton's rides can be quite challenging, but he knows when to throttle the intensity up or down to keep you at your best.
He also does Power Zone rides, so if you're looking to improve your real world road cycling performance, check some of those out.
Denis is famous for his dry wit, making him one of the funniest Peloton instructors on the app — if you're into dry humor.
---
Christine D'Ercole
Christine is not one of the more well-known Peloton instructors (if there is such a thing), but she's a must-take for cyclists.
CDE, as she's known, is a decorated professional cyclist with over 20 years of competitive experience.
She's not just an all-purpose trainer who happens to teach spin classes, she really knows the bike inside and out.
Take a Christine class for a challenge that will really sneak up on you, and LOTS of intentional work on your breath and cycling form.
Like Matt and Denis, you'll also sometimes find Christine hosting Power Zone training rides.
---
Robin Arzón
Robin is a Peloton legend, as she was one of the first instructors on the app.
Nowadays she's the VP of Fitness Programming, and she has the chops to back it up. Robin is a certified running coach and ultra-marathoner.
So she's a tank, and her cycling classes will prove it to you.
Robin is undoubtedly one of the hardest Peloton instructors, full stop.
She hosts a lot of HIIT rides, and you'll have a hard time finding an easy class from Robin.
If you're looking to improve your real world cycling performance by pushing as hard as possible on the bike, don't miss Robin's legendary rides.
The real bike will feel like a vacation after she's done with you!
---
Wrapping Up
If your main goal with the Peloton is improving your performance on the real bike — whether you're a mountain biker, competitive road cyclists, or just a passionate amateur cyclist — the Peloton is a really useful training tool.
Look for rides from Matt Wilpers to start — he's exactly what you're looking for.
But you won't go wrong with Denis Morton, Christine D'Ercole, or Robin Arzón either.
Explore Power Zone training on the Peloton to really push your performance to the next level — or just choose the hardest classes you can handle!
For more, don't miss:
Hope this helps!