Barre fitness studios are becoming a more and more popular option, gaining ground on cardio-heavy classes like spin.
Two of the biggest names in the barre fitness industry are Physique 57 and Pure Barre. 
These fitness studios are global franchises, with locations worldwide. However, these studios take a different approach to running their facilities.
So what's the difference between Physique 57 vs Pure Barre, and which one is right for you?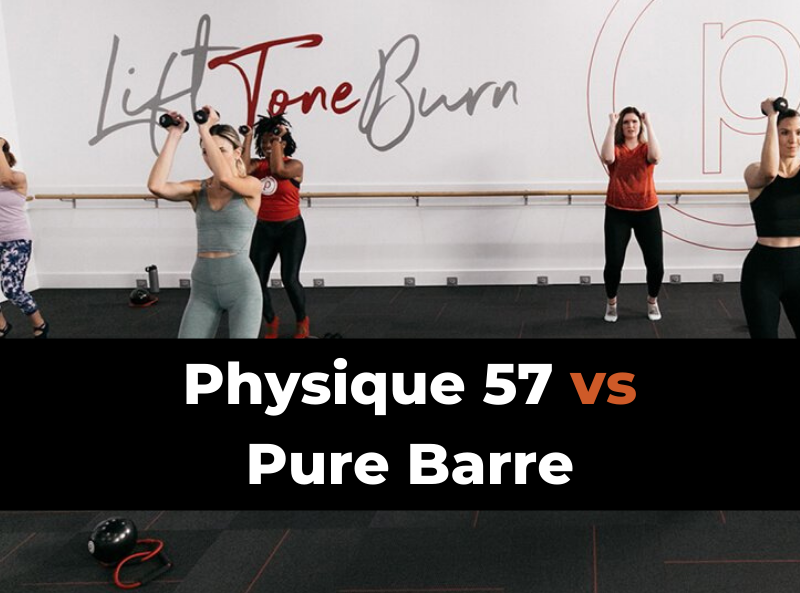 Physique 57 vs Pure Barre comes down to your fitness level and your budget. Physique 57 offers more amenities and higher-intensity classes, making it a good investment for people who are further along in their fitness journeys. Pure Barre is more affordable and has more class variety to keep beginners and intermediates engaged and motivated.
Let's take a closer look at Pure Barre vs Physique 57 costs, workouts, results, vibe, and more.
---
Physique 57 vs Pure Barre Cost 
One of the biggest differences between these studios is the membership cost.
Physique 57 has a much more upscale image for its brand and studios. The memberships will usually be considerably more than at Pure Barre. 
Pure Barre provides more budget-friendly options that allow more members to benefit from their classes. However, these fitness studios will be more expensive than a standard gym franchise like LA Fitness. 
The price is well worth it for barre fitness enthusiasts to receive in-person instruction from a certified teacher.
The classes are always taught by experienced barre instructors who will work with you to get an incredible workout. 
Additionally, there are discounts for first-time members at both of these studios.
Physique 57 has different deals, but the most recent is receiving your first four classes for $40. At Pure Barre, you can attend a free introductory class to see if you like how the classes are conducted. 
After you have decided which studio is right for you, here's roughly what you can expect as far as membership costs.
Physique 57 Costs:
The single class drop-in rate is about $40 per class
Four classes per month for $150
Eight classes per month for $295
Twelve classes per month for $395
Five classes (pack) for $190
These costs listed are for a month-to-month membership, but you can reduce the membership fees by purchasing a yearly membership. There is an average discount of 15% if you purchase an annual flex membership.
If you decide to purchase class packages, they have an expiration of three months. A single class has an expiration of one month, but these should only be purchased on rare occasions due to their price.
Pure Barre Costs:
The single class drop-in rate is $22 per class
Unlimited classes per month are $199.99
Five classes are $100
Ten classes are $190
Fifteen classes are $270
Twenty classes are $340
The membership fee structure differs from Physique 57, with many class packages. If you don't want an unlimited monthly membership, you will need to purchase a class package for the month.
While these prices are close to the average, they will differ depending on your location.
Cities with a higher cost of living will require higher membership fees, so you should speak to your local studio for an accurate estimate. 
Pure Barre and Physique 57 also have online options for members to attend online barre classes from the comfort of their homes. To sign-up for Pure Barre GO, the membership cost is $30 per month.
At Physique 57 On-Demand, the monthly fee is $24.99 per month for hundreds of workout videos you can follow along. There are also live virtual classes, but you need to talk to your local gym about signing up. 
Overall, Pure Barre is a far more affordable option than Physique 57 — but let's take a look and see how far your money goes at each studio.
---
Facilities and Amenities
Due to the nature of barre fitness, the facilities of these studio franchises mimic the design of a ballet studio.
The surrounding walls inside the classrooms are lined with ballet barres used for stability throughout the class. 
Physique 57 studios will have a more high-end design compared to Pure Barre.
When you enter a Physique 57 facility, the studio will look polished and almost spa-like. The layout evokes a sense of calm, preparing you for an excellent workout.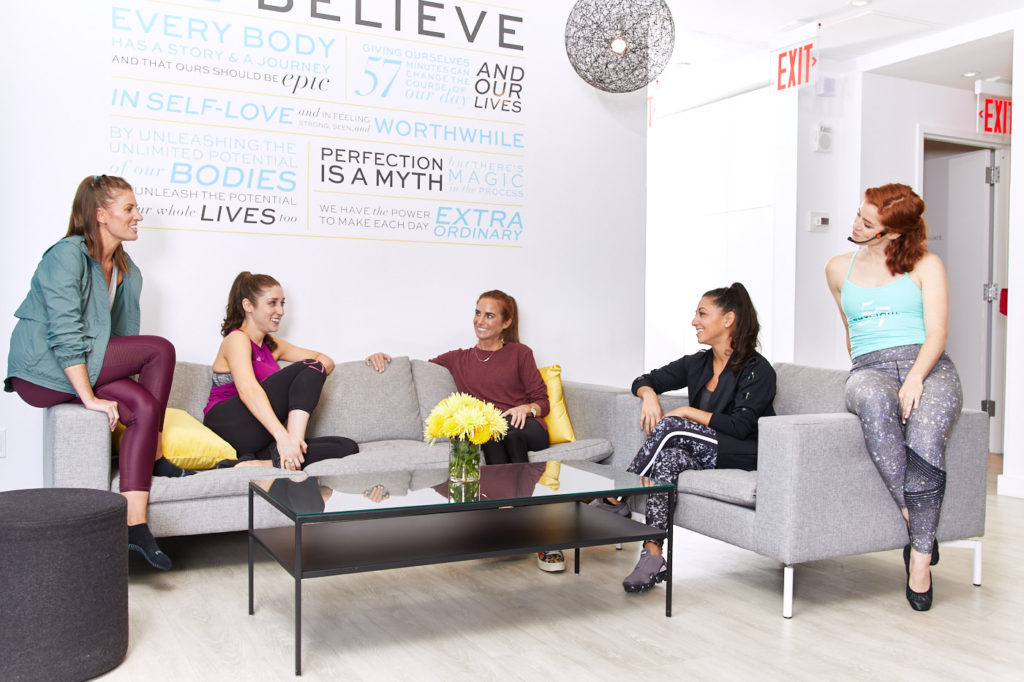 The studio will have a few pieces of equipment, the most important being the ballet barre. You will also utilize hand weights and medicine balls to add resistance training during the intense workout.
Besides the beautiful facilities, Physique 57 offers numerous amenities that improve the experience.
Most Physique 57 studios will have a locker room with spacious lockers to put your belongings in before the workout. 
If you commute to work after your workouts, you will love attending a Physique 57 class. All studios have spacious showers that you can use after your workout to prepare for your workday properly.
Additionally, Physique 57 studios have some of the best apparel stores of any studio franchise. You can purchase premium t-shirts, tank tops, or leggings from the apparel shop at the front of the studio.
The facilities of a Pure Barre studio are more basic, with a less luxurious appearance like Physique 57.

However, you still have all the necessary equipment to have an amazing barre workout. 
You will utilize hand weights, medicine balls, and resistance bands throughout the class. The studios feature sturdy ballet barres that you can use to stabilize yourself during your intense workouts.
The walls are also covered in mirrors, helping you maintain proper exercise form throughout the workout. At Pure Barre, the amenities are more location dependant–with some locations having showers and lockers.
---
The Workout
Physique 57 and Pure Barre provide barre fitness workouts, which take inspiration from pilates and ballet.
The workouts are high-intensity and low-impact, an excellent option for all fitness levels. 
According to experienced barre fitness enthusiasts, the classes at Physique 57 are more intense than Pure Barre.
The classes are designed to push your muscles to exhaustion and develop fantastic strength.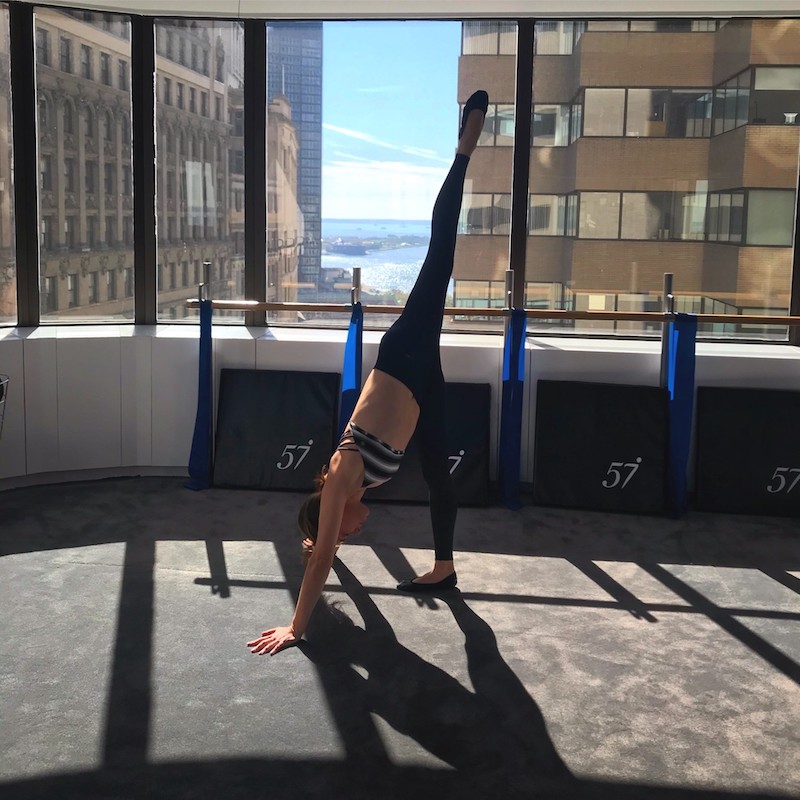 Most of the workouts will be close to 1-hour long, but this will depend on the instructor and class style. The classes incorporate resistance training and bodyweight exercises with standard barre fitness movements.
Pure Barre has diverse class offerings, with styles ranging from beginner to advanced members.
Below are the four-class styles at Pure Barre and what you can expect while attending the class:
Foundations: If you are new to Pure Barre, this class will teach you basic movements and techniques. This class is typically free as an introductory class trial to see if you like the workout style.
Classic: The Classic class is the original barre workout and is a full-body workout that incorporates the medicine ball, weights, and double tube.
Pure Reform: If you love resistance training, this is the class style for you. You will reshape all of your major muscle groups through resistance training with resistance bands and sliders.
Pure Empower: The Pure Empower class focuses on mixing barre and cardiovascular training into a short 45-minute workout. You will perform plyometric movements with wrist and ankle weights.
Physique 57 and Pure Barre recommend attending classes 3-4 times per week to receive optimal results.
Physique 57 also claims that you will see noticeable barre results after attending eight classes. 
If you want a lean and toned physique, attending either of these studios will help you achieve your goals. Physique 57 will offer up more intensity but Pure Barre typically more class variety if you like to mix things up.
---
Community and Vibe
Fitness studios like Physique 57 and Pure Barre put an emphasis on building a strong community environment.
When you are attending classes, you will feel like a part of a team working together. 
You will meet many like-minded people and build lasting friendships with members. The community atmosphere draws many to attend barre classes instead of a standard corporate gym.
However, the vibes are slightly different in Physique 57 and Pure Barre.
When you attend a Pure Barre studio, there will be more options for beginners and those not experienced in barre workouts. 
Physique 57 classes in the studio will be tough, and the members typically are more experienced. Fortunately, you can take Physique 47 classes online–with some classes being designed for beginners. 
Additionally, the vibe in Physique 57 is much more upscale than your standard barre fitness studio. With an average single class drop-in rate of $40 per class, the studio is less accessible to everyone.
Pure Barre has more manageable membership options, allowing people of all backgrounds to join. 
Lastly, you can expect to have fun at both of these barre studios.
The classes have lively music, and the instructors bring infectious energy into the room. You will leave your workout feeling re-energized and ready to take on the day. 
---
Wrapping Up
Physique 57 and Pure Barre are excellent studios for barre fitness classes.
In under 1-hour, you can get an incredible workout that will develop your muscles and improve flexibility. 
You will be a part of an amazing community that will keep you motivated and makes exercising fun.
However, if you are a beginner, attending Pure Barre would be the better choice to develop  your technique and avoid breaking the bank.
If you are an experienced fitness enthusiast, going to Physique 57 will help you master barre (and your physique).
Whatever studio you choose, make sure to take advantage of introductory offers for the best deal!
For more comparisons, check out:
Hope this helps!