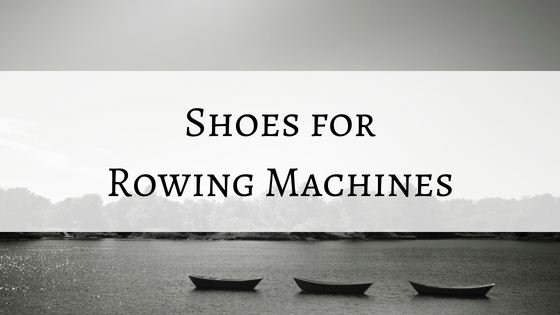 If you're looking for a high-intensity, full-body workout, look no further than a rowing machine!
I've said it before and I'll say it again – rowing is a great way to improve cardiovascular health, strengthen your muscles, and lose weight.
But did you know that you can further improve your rowing exercise routine…
…with the right shoes? That's right – finding shoes that are suited to indoor rowing will help improve your comfort and workout capacity.
Surprisingly, the right shoes can also help your posture – and your rowing stroke!
Below, I'll go into detail on how to pick the best shoes for a rowing machine, but if you want a couple of quick recommendations, try these:
Image
Product
Details

Converse Chuck Taylor All Star

Budget-friendly
Super comfortable
Unisex design

Check on Amazon

My Pick

Vibram FiveFingers KSO

Natural, barefoot feel
Amazing breathability
Incredible grip

Check on Amazon

Reebok Crossfit Nano 5.0

Blend of flexibility & support
Good toe box width
Great for cross-training

Check on Amazon
When it comes to using a rowing machine, many people simply don't think about what shoes they have on their feet. But if you are looking to get started with indoor rowing and want the best shoes around, here's how to get started.
---
What to look for when you buy shoes for working out on a rowing machine
When it comes to rowing, you should expect an intense (but low-impact) workout.
Running, jogging, and other such exercises tend to be much more high-impact. That means that the shoes that you wear for running are probably not the same shoes you want to wear for rowing.
In the end, different exercises should have different shoes. Why?
Because you want to protect your body but also get the most out of your workout.
Let me break down a couple of key things you should be looking out for when shopping for shoes for rowing machine use. Although everyone has different preferences, these factors are important to consider:
BUILD:
When looking to buy shoes you can use on the rowing machine, you need to consider the full build of the shoes – material, sole, and cushioning.
For the material, you want it to be flexible and lightweight so that you're able to move your feet while on the machine. Heavy shoes are a no-no here.
You want the sole to be stiff and solid.
Running shoes tend to have more air pockets and more cushioning. This is not what you want in a rowing shoe! Extra cushioning can lead to a lack of balance and stability. If your soles are also cushioned or flimsy, rather than solid, you lose rowing efficiency.
This is because softer or larger soles will absorb some of the pressure and impact, meaning more of it is going into your shoe – and not your row stroke.
In order to maximize the efficiency of your rowing, choose thin, flat, and stiff soles for your shows.
COMFORT:
There are a few factors to consider that relate to the comfort of your shoes.
A bad rowing stroke can lead to joint stress, added pressure on your back, or even skin injury.
Because of that, you don't want your shoe to throw off your foot placement – as that is the first step in incorrect strokes. Your shoes should be flat-soled so that they can properly fit on the machine.
It is also key to ensure that the shoes are the right size, length, and width. It seems easy to remember, I know! But with rowing shoes, especially with a lot of repetitive motion, it is so important for the shoe to be a good fit.
Even shoes that are slightly too small or too large can lead to pinching, pain, or sliding on the machine.
Finally, your shoes should be breathable.
I want you to be able to get in a long, sweaty workout on the rowing machine.
But sometimes sweaty workouts mean sweaty feet – and we don't want that. A breathable shoe will help promote good airflow, keep your feet from getting too damp, and ensure your comfort throughout the workout.
STYLE:
One important stylistic choice to look for in rowing shoes is the "heel-to-toe drop."
To put it simply, this is the "drop" (or height change) between the heel of the shoe and the toe of the shoe. A shoe with a thick, cushioned heel that is thinner near the toes has a large heel-to-toe drop, while a flat-soled shoe has little to no drop.
For casual rowers, you may not feel it necessary to buy special shoes.
However, if you are looking to start rowing more and to maximize your workout, a shoe with little or no heel-to-toe drop is key. The smaller the drop, the better the placement of your foot on the rowing machine!
Another stylistic choice some might consider is high-top shoes versus low-top shoes. In terms of rowing, both are acceptable. However, for optimal ankle movement, do not lace your shoes all the way to the top if you are using a high-top version.
FLEXIBILITY:
For rowing, flexibility is necessary.
You should be able to feel the position of your foot on the footrest, as well as be able to move your feet and body into specific positions. If your shoes are not made of a flexible material, you may feel uncomfortable during the rowing process.
Typically, shoes that are inflexible are also made of a thicker cloth, which can cause comfort (and sweat) issues.
DURABILITY:
Whether you're new to rowing, or someone who rows multiple times a week, a durable shoe is a must. Rowing machines put a lot of strain on the outsoles of shoes. You want a high-quality, well-made shoe that will not have the soles broken or rubbed away within a few weeks or months.
Poorly made shoes with outsoles that fall apart increase the chance of foot injuries.
When you're looking for shoes for rowing machine use, take a strong notice of the brand and quality!
To recap, a good shoe for rowing machines will:
Have a thin, firm, and flat sole
Be breathable
Have a very small (or no) heel-to-toe drop
Be flexible but durable
Now, here are 3 awesome shoes that you might want to look into if you're ready to get serious about your rowing machine workouts.
---
1. Converse Chuck Taylor All Star (low top)
Overview: These low-top sneakers are made in the timeless fashion that Converse Chuck Taylors are known for. Constructed from canvas, these sneakers offer a variety of colors, a rubber sidewall, and a toe cap. Converse is well-known for their comfortable and stylish shoe choices. These affordable options run true to size.
Major Pros: Converse Chuck Taylor All Stars are a great choice for rowing. Consider the following:
Thin, flat soles – when it comes to rowing, thin, flat soles are ideal. These soles are perfect for optimal foot position and energy efficiency on a rowing machine.
Unisex – Converse offers attractive, colorful options for both men and women.
Comfort – these shoes fit well, molding to the natural shape of the feet. They are minimally cushioned but still comfortable, making them perfect for day-to-day wear or rowing.
Major Cons: While Converse Chuck Taylor All Stars have their benefits, they do come with some drawbacks:
Breathability – Converse are not made with super breathable material, meaning your feet are more likely to get stuffy and sweaty when rowing.
Narrow – These shoes are not well-built for people with wider feet, leading to discomfort.
Sole Quality – There are some complaints that the sole is too thin and not durable, splitting after minimal wear and tear.

Get the latest price & read real customer reviews of the Converse All Stars on Amazon
---
2. Vibram KSO EVO Cross Training Shoe
Overview: Vibram has been an innovator in the performance and active industry for over 75 years. The Vibram KSO EVO Cross Training Shoe is an unconventional, zero-drop shoe with a thin rubber sole. Constructed from polyester fabric, this shoe offers separate slots for each toe, making it feel more natural and minimalist than any other footwear. Lightly padded, the KSO EVO helps wearers feel more of the terrain (or the equipment) while still standing up to wear and tear.
Major Pros: When it comes to rowing, the Vibram KSO EVO Cross Training Shoe is a great option because:
Natural feel – some proponents of rowing say it is best to go barefoot. The thin sole on this shoe makes it as close to natural and barefoot as you can get!
Breathability – these thin, flexible shoes dry quickly when wet, meaning you'll never feel uncomfortably sweaty.
Strong grip – these grippy shoes will keep you in place during your workout, ensuring that you maintain proper form throughout the entirety of your rowing experience!
Major Cons: While many enjoy the Vibram KSO EVO, there are some drawbacks:
Sizing – many say that these shoes are not true to size, which could make it more difficult or uncomfortable during training. It could also cause stress on ordering the right size.
Durability – because the Vibram KSO EVO is so thin, it may be more prone to damage from daily wear-and-tear. Other reviewers mention the soles and toes as being especially vulnerable.

Get the latest price & read real customer reviews of the Vibram shoes on Amazon
---
3. Reebok Crossfit Nano 5.0 Training Shoe
Overview: Founded in the late 1800s, Reebok has always been committed to athletic excellence. The Reebok Crossfit Nano 5 is made from synthetic material and offers a rubber sole. Designed with Crossfit in mind (which features a lot of rowing for training!), these Reebok shoes offer a contoured, anatomical design with Kevlar-infused mesh for increased support.
Major Pros: When considering the Crossfit Nano 5, these are some benefits that might sway your thinking:
Build – these mid-height shoes provide flexibility with added ankle support.
Stiffness – the Crossfit Nano 5 offers a stiff Kevlar-infused mesh for added protection and support, as well as a stiff and grippy sole. Your feet will not budge from the rowing machine, helping your form.
Width – many people complain about shoes being too narrow and pinching their toes. But this shoe is wide enough to accommodate a range of feet widths and sizes, while still fitting snugly.
Major Cons: Although they have their benefits, the Reebok Crossfit Nano 5 Training Shoes also have some drawbacks:
Warranty – these shoes only come with a 30-day warranty, meaning that they aren't heavily covered. This could be an issue if you discover a defect more than 1-month in.
Width – in this case, width is a pro and a con. Although the width of the toe area means it is great for people with wider feet, it could mean a more uncomfortable or awkward fit for some.

Get the latest price & read real customer reviews of the Reebok Crossfit shoes on Amazon
---
Wrapping Up
Introducing a rowing machine into your exercise routine can have an absolute ton of health benefits.
But in order to reap those benefits, you need to have the right tools and equipment. Start off by purchasing the best shoes for rowing machine use.
Shoes for rowing should have thin, flat soles to best help with your positioning. They should be flexible and breathable but still made to stand up to daily or weekly use.
For my money, I would probably spring for the Vibram KSO EVO Cross Training Shoe. These shoes are thin-soled, so much so that they feel like you are barefoot. But they should still hold up to heavy use on the rowing machine.
You can check out my top pick, the Vibram KSO Cross Trainers on Amazon right here.
Hope this helps!