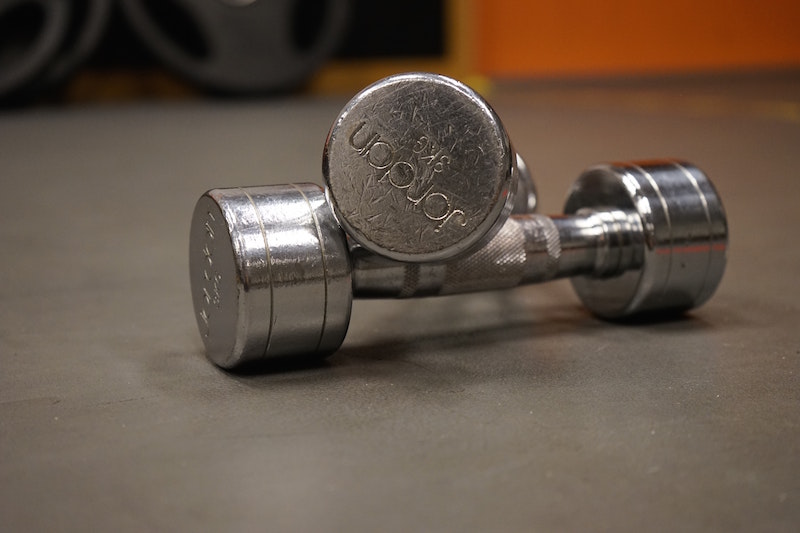 There's absolutely nothing that quite compares to getting real opinions from real fanatics.
That's why Reddit is one of my favorite places to do research before I buy something.
(I recently did this for power racks.)
If you're looking for the best adjustable dumbbell set for your home gym, I have good news. Reddit has a TON of information on this.
I just finished digging through dozens of Reddit threads on r/homegym, r/strengthequipment, r/fitness, and other subreddits to find the most highly recommended adjustable dumbbells.
Here they are:
Image
Product
Details

Bowflex Select Tech 552

Budget-friendly!
Reddit says: Easy to use
Reddit says: Durability a concern

Check on Amazon

My Pick

Power Block Elite

Excellent value
Reddit says: Lasts forever!
Reddit says: Funny shape

Check on Amazon

Ironmaster Dumbbells

Incredible high-end quality
Reddit says: Real dumbbell feel
Reddit says: Expensive!

Check on Amazon
Let's take a deeper dive into each of them along with some Reddit comments that should give you some insight into the pros and cons.
---
Bowflex Select Tech 552 adjustable dumbbells (Budget option)
These are a super popular set for people who love to lift dumbbells at home, and for good reason.
They've been around for years, come from a trusted brand, and are pretty friendly on the old wallet.
The Bowflex 552's come with two dumbbells that adjust all the way from 5 to 52.5 pounds each, and you can throw in a stand if you're willing to shell out some extra.
Here's a couple of quick highlights you should know about this set:
PROS
Far cheaper than a full dumbbell stack

Switch weights quickly and easily

Trusted brand and solid warranty
CONS
Durability a concern over a long period of time

Plates can be a bit wobbly

52.5 pound limit with no expansion
---
Bowflex Select Tech 552 Reddit reviews
So that was the high-level overview. Now what does Reddit have to say about the 552?
In general people seem to really like these dumbbells as a solid, entry-level option for your home gym.

Reddit user yeti_beard writes, "I have the Bowflex set and I'm really happy with them."
They add that they've held up well for several months of regular use.

While some users complained about long-term durability, u/tikitikifoofoo says otherwise.
"I've had the Bowflex adjustable dumbbells for almost 10 years and they still work great," they write. "Never really had any problems with them."
They add that the dumbbells have a bit of an awkward shape and feel, but that it doesn't impact your workout.
"I think they're a good value," this user writes.

User squeaksthepunkmouse chimes in with a pretty detailed review.
"Great for a home gym set up when you can't make it to the gym or don't have access to a barbell," they write. "Good for beginners or for dumbbell routines."
As far drawbacks, this user writes that the 52.5 weight limit might become an issue for more experienced lifters and that the feel can be a little awkward at times.
Still an overall positive impression.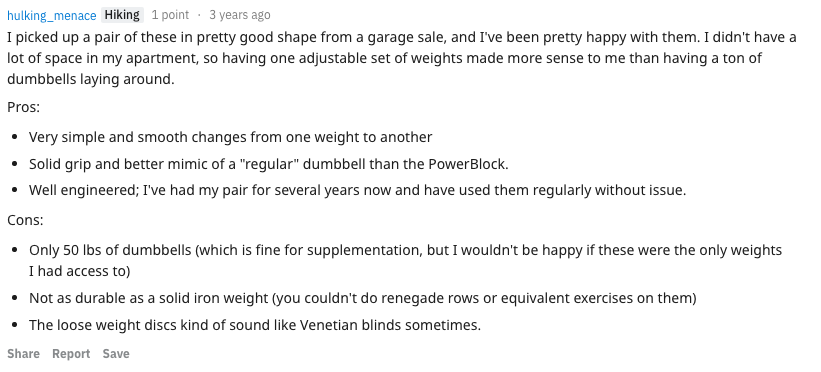 u/hulking_menace is nice enough to jump in with a VERY detailed review, so thanks for that!
For pros, this user writes that switching from one weight to another is fast and easy, the grip mimics a regular dumbbell quite well, and that long term durability hasn't been a problem so far.
As for cons, the 52.5 weight limit per dumbbell comes up again as a serious limitation for strong lifters.
"I didn't have a lot of space in my apartment," this user writes. "So having one adjustable set of weights made more sense to me than having a ton of dumbbells laying around."

Get the latest price & read more customer reviews of the Bowflex 552s right here.
---
Power Block Elite adjustable dumbbells (Intermediate pick)
If you're looking for something just a little more suited toward intermediate and advanced lifting at home, you might want to check out the Power Block system.
(Reddit users have positive things to say about all of the Power Blocks, but they all use the same basic technology and the Elites are the easiest to find online.)
Stay with me… I know these look like car batteries! But despite their odd appearance, they have exceptional quality and usability.
Here are some of the highlights and pros and cons:
PROS
Budget-friendly (cheaper than Bowflex for similar weight)

Multiple weight expansion sets available

Exceptional durability

Adjustments quick and easy
CONS
Shape of dumbbells is odd and takes some getting used to

Expansion sets can be quite expensive
---
Power Block Elite Reddit reviews
There's a lot to love about these dumbbells, and as such they come highly recommended by the Reddit fitness community.
Here are a few top comments that illustrate why the Power Block Elites are such a great buy.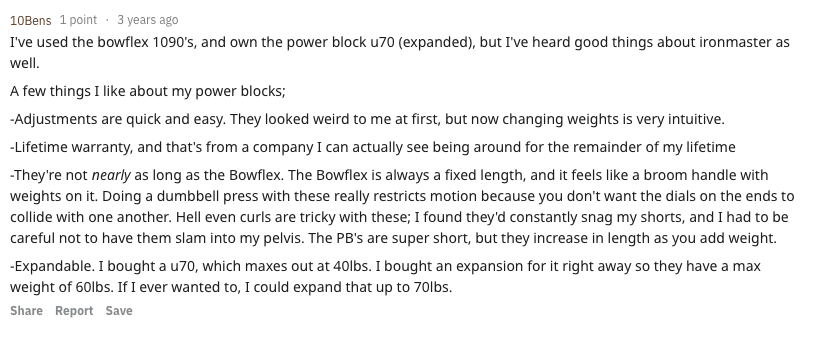 This user, 10Bens, loves all kinds of things about the Power Blocks.
"Adjustments are quick and easy," they write. "They looked weird to me at first, but now changing weights is very intuitive."
They also like the shape and size of the dumbbells, odd as they may be. "They're not nearly as long as the Bowflex," they write.
And finally, this user loves the expandability of the Power Block system, which is a huge selling point.
Maxed out at 50lbs? No worries, just grab an expansion kit and make it 70. From there, the Power Blocks can expand all the way up to 90lbs per hand. Impressive!

User Trent_Boyett writes, "I've had the (PowerBlocks) for the last 8 years and they've been pretty much flawless."
Well, not completely flawless. This user says you can't do wrist curls with Power Blocks because of the blocky design, which makes sense.
But other than that, a stellar recommendation.

Reddit user Eyetron2020 is a huge fan of the Power Block adjustable dumbbells, funky shape and all.
"Some people mention the 'cage' is awkward, but I don't find that at all," they write.
They add that they ended up choosing the Power Blocks over Ironmaster dumbbells (which we'll talk about below) due to the ease of changing weights and the smaller overall footprint and size of the Power Blocks.

Add in one more recommendation, courtesy of Fugazification, for the Power Blocks.
"The storage space and speed of use are incredible," this user writes.
Woohoo!

Get the latest price & read more customer reviews of the Power Block Elites on Amazon right here.
---
Ironmaster Adjustable Dumbbells (High-End pick)
If you've got a little more cash to spend, and/or you just don't like the feel of other adjustable dumbbell sets, you might want to spring for the Ironmasters.
These are pretty much considered the gold-standard of adjustable dumbbells (assuming you've got the budget).
What makes them so special?
First, straight out of the box these go up to 75lbs per hand. That ought to keep you busy for a while!
Second, they're incredibly heavy duty and durable, while being the closest mimic of the feel of a regular dumbbell. These should behave and fit in your hand pretty much the same way any normal gym dumbbell set would.
Here are a couple of other highlights:
PROS
75lbs per hand capacity

Real-dumbbell feel and grip

Expandable up to 120lbs per hand!

Made from chrome and steel for durability
CONS
Expensive! The standard set costs about $600

Changing weights takes a little longer than competitors
---
Ironmaster dumbbells Reddit reviews
Redditors love these dumbbells from Ironmaster.
They don't make sense for every person and every budget, but if you're a serious lifter who's willing to make the investment in an amazing product, these are a great pick.
Here's what Redditors in r/fitness, r/homegym, and more are saying about the Ironmasters.

Hear it straight from someone who went with the Ironmaster dumbbells and the 120lb per hand expansion:
"Without a doubt the Ironmasters are the best on the market," user kplee writes. "I have the 120lb set and love them."
'Best on the market' is a phrase you'll hear a lot of around this set.

This user (brad808) switched over from Power Blocks to Ironmasters are they became more advanced as a lifter.
And they have a clear preference.
"In 9 out of 10 cases though Ironmaster is better," the user writes. "Much better build quality and design."
Though the change-speed is something to consider. "(Ironmasters) take 15-30 seconds to change."

Speed of changing from weight to another comes up again from chobs4, who writes "I would definitely recommend them unless you need incredibly quick weight changes for drop sets, etc."
They say these dumbbells take anywhere from 25 seconds to 1 minute to change.
However, in the end, this user writes that the 120lb Ironmasters are "incredibly solid."

User Snapples63 really gets at the heart of why Ironmasters are worth the big investment up front.
"The Ironmasters feel balanced like commercial dumbbells, the knurl (bar grip) is awesome on them as well."
They also write that the change speed isn't quite as bad as advertised, and is exaggerated by some.
"Unless you're doing drop sets," this user writes, "you'll have more than enough time to change out the weights in between sets or exercises."

Get the latest price & read real customer reviews of the Ironmaster dumbbell set on Amazon.

---
Wrapping Up
These days, you never know if you can trust product reviews online.
But you can always count on Redditors to give you the raw truth. That's why it's one of my favorite places to do product research.
So what does Reddit think about adjustable dumbbell brands?
Most home gym fanatics on the big fitness subreddits seem to love either the Bowflex 552, the Power Block Elites, or the Ironmaster adjustable dumbbells.
Whatever your budget, you're going to get a great product (and a far better deal than buying a full dumbbell stack!).
For my money, I would probably go with the Power Block Elite dumbbells. Sure, they look a little weird, but the price is great for such high quality, and most people say the shape isn't too limiting in the end. Plus, you can expand when you need to and you'll get an awesome warranty on the product in case it gets beat up over the years.
You can check out the Power Block Elite 70lb dumbbell set right here on Amazon
Hope this helps!