When most people start hitting the gym for the first time, they just wear whatever athletic shoe they have lying around in the closet.
And that's absolutely fine if you're just getting started!
Eventually, though, if you start getting serious about lifting heavy weights, you'll want to invest in the proper footwear.
A good weightlifting shoe might have features like:
Solid, sturdy aesthetic
Laces on the front and a strap that go over the laces
Flat, hard sole
Heel raised between 0.5" to 1.0"
But of course, they come in all different styles and varieties — the main purpose is to give you a tough, sturdy platform for pushing and pulling heavy loads, rather than the light airy feel of a running shoe.
What are the best weightlifting shoes according to real lifters on Reddit?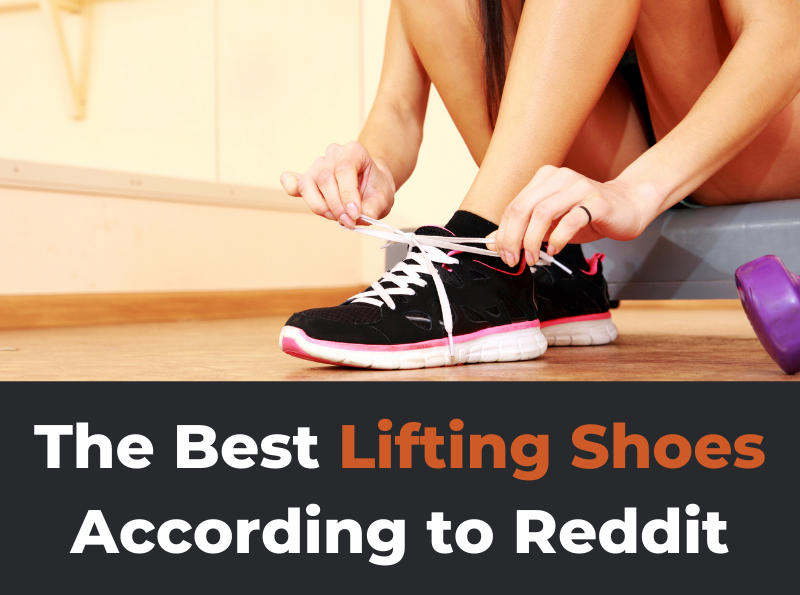 Here are a few of the best shoes for weightlifting according to Reddit:
Adidas Powerlifters: Best on a budget
Nike Romaleos: Best high-end
Chuck Taylors: Most stylish
Reebok Lifters: Best for squats
Let's take a look at each one so that you can find the one that's best for you.
---
Adidas Powerlifters: Best on a budget
You can find Adidas in any shoe store, but you may have to do a bit of digging to find the brand's powerlifters.
They don't come cheap, but when it comes to a nearly perfect powerlifting shoe, it's a real steal.
In addition to being available in a wide breadth of colors, here are some of the other highlights.
High-density midsole
Lace closure with hook-and-loop strap
Open forefoot
Breathable
If it means anything, these are the shoes I've personally been using to lift for years!
Here are some reviews from Reddit in case you're still on the fence. 
Adidas Powerlifters Reddit Reviews
It should come as no surprise that there are plenty of lifters out there who don't have a ton of cash to burn.
Plenty of people have taken to social media to figure out where they can get the cheapest shoes around. When the question arises, Adidas always gets mentioned.
Reddit user Pelvur offers some good advice for anyone who wants an even better deal than what you can normally get on the Adidas website.
This same sentiment was shared on a different thread by rgaggle, who mentioned:
"Adidas powerlifters are pretty cheap. I got a pair on amazon for about $60 US."
As expected, there are a ton of unique Adidas models to go after. If you'd like a more specific recommendation, then you may want to follow this advice from thegymguide.
"You can go for Adidas Power Perfect 3. They are really nice shoes way under your budget. They marvel at the comfort level and is very convenient for deep squat positions."
The real question comes down to the quality.
Most of the people you find talking about them on Reddit just focus on the price, but you can be confident these will stand up tough to persistent use.
Just keep in mind that Adidas Powerlifters are specifically designed for lifting.
Your feet probably won't feel too good walking in them for an extended period of time (and definitely don't run in them!).
Pros
Good for people of all training levels
Breathable
Flexible materials
Comes with a solid reputation
Cons
Takes a while to break in
Bad for cardio
Check out the Adidas Powerlift 4 on Amazon.
---
Nike Romaleos: Best high-end
In the event you can splurge a little bit, then you may feel like opting for the Nike Romaleos.
These are designed for elite-level training, and while they tend to cost at least twice as much as Adidas Powerlifters, there are still plenty of reasons why they're worth considering.
Some of the qualities you can expect with this shoe include:
Wide straps to completely keep your feet secure
Wide heel, perfect for particularly heavy lifts
Right midsole with heel lift allows for ideal power transfer
These are made in an array of sizes. And if you check them out on Nike's website, you'll find reviews calling them "Amazing" and "Stylish."
But what have they said about the footwear over on Reddit?
Nike Romaleos Reddit Reviews
When it comes to discussing the best weightlifting shoes out there, everyone has an opinion.
Naturally, people are partial to what they wear, but Nike's reputation precedes itself.
One Redditor, luiss0321, started a thread asking people for their opinions, and in the process, offered up a few brands that looked good.
"I am looking to buy my first pair of weightlifting shoes to improve my squatting. So far i came across these options: -adidas powerlift 3.0 -adidas power perfect III -adidas CrazyPower More expensive options -nike Romaleos 3 -adidas Adipower -adidas Leistung.16 II."
Not only do the Romaleos come up, but again the Adidas Powerlifters were mentioned as solid, despite the low price tag.
Later in the thread, plenty of other people chime in to discuss the significance of the footwear.
Nike Romaleos 4 seems to be the latest model, and seeing as how they can last up to six years, it may be worth the extra investment to get your hands on them.
Of course, not everyone has such a good impression of the Romaleos. One user, Nudetypist, mentions:
"Romaleos 3 is very uncomfortable to me but others seem to like it."
My advice? Try out a pair at first and keep your receipt.
Once you give them a few sessions, you'll know whether to keep them around.
Pros
Outer leather combined with mesh material
Solid TPU heel
Lightweight (usually between 13 and 15 oz)
Cons
A little more expensive than other brands
Some early ripping on the tongue reported
Check out the Nike Romaleos on Amazon
---
Chuck Taylors: Most stylish
Chuck Taylors may be associated with the grunge movement of the early 1990s, but they now have a role in the athletics world.
They may not be the first shoe you think of when it comes to weightlifting, but there are important reasons why plenty of lifters consider them a standard part of their wardrobe.
Chuck Taylors come with hard, rubber soles that provide you with sufficient balance as you lift.
Not only that, but since these are standard shoes, you can wear them anywhere else in addition to the gym.
That means if you have a hot date immediately following your lift session, then you can head out without worrying about needing to pack another pair of shoes!
(Though they might be a little sweaty… yuck.)
Chuck Taylors are a big hit with Redditors, too.
Chuck Taylors Reddit Reviews
A lot of people assume they have to shell out a ton of money for specialty shoes they can really only wear at the gym.
However, when you want to remain stylish no matter where you go, Chuck Taylors serve a dual purpose.
In one thread, Bull-in-China-Shop writes about their footwear of choice:
"My best squat (370) and deadlift (385) were done in Chuck Taylor's. I can also wear them on a date with my wife."
CFisLife212 chimes in after this comment, writing:
"I second this and also vans."
Both Chuck Taylors and Vans come with the hard soles typically reserved for powerlifting shoes.
However, there are a ton of options out there when it comes to Chucks. User blackmetallic offers this piece of advice:
"I just got a pair of chucks that are geared towards skaters, so they have a thick tongue and more supportive/cushioned sole, but they're still pretty flat and even. they'd be a great option vs. regular chucks, which don't have any kind of cushioning."
Of course, there are those who will insist you should get shoes specifically designed for lifting.
That's the case with the following interaction.
If you follow the link offered by BraveryDave, you'll see a picture of a weightlifter wearing shoes with raised heels.
As you can see, it allows him to get in a more optimal position to squat and lift.
Chucks are flat, so while they give you the force you need, it may not be ideal for everyone.
Pros
Double-stitched mesh upper
Rubber toecap
Firm sole
Cons
No lace strap
No arch support
A lot of counterfeits are out there of subpar quality
Check out the classic Converse Chuck Taylors on Amazon.
---
Reebok Lifters: Best for squats
The squat is the King of all mass-builders they say, so if you want to pack on size, it should be a big focus of yours in the gym.
If you want to build a huge squat (especially if you're looking to compete), then many people think you should invest in Reebok Lifters.
A ton of varieties are available, but you should expect to spend over $200.
Over on Reddit, it appears as though the extra cash may be worth it.
Reebok Lifters Reddit Reviews
Reeboks are a popular choice among weightlifters on Reddit. One user, Grilled-Meat, couldn't wait to share their brand new shoes as soon as they came in the mail.
Plenty of people were quick to offer their opinion, and it does appear as though the Reebok is a solid choice.
Here are some of the comments you'll find under the initial video.
"Got some of these recently in a different colour. Love them."
"I actually like this colorway except for the blue sole; I wish it were black instead. Still cool though."
"Great choice for your first shoe, sadly there's more disappointing shoes out there than good ones nowadays."
Grilled-Meat mentions further in the thread these particular shoes cost less than others from the brand due to the unusual color scheme.
You may be able to find a similar price reduction if you don't mind some funky hues.
These shoes sound like they work best when staying in the gym working on squats, so you probably wouldn't want to wear them out and about anyway.
Pros
Works well for people with wide feet
Higher heel
Perforated leather and upper mesh for breathability
Flexcage technology
Cons
Heavy
Not as durable as others
Check out the Reebok Legacy Lifters on Amazon.
---
Wrapping Up
It's vital to do your research before buying any new workout shoes.
It can be a big investment, and you'll want to make sure they suit you needs and can hold up well with regular use.
There are pros and cons to every type of shoe out there and there's no one, true "best weightlifting shoe."
But if the seasoned lifters and real life users over on Reddit have anything to say about it, the 4 choices above should be a good starting point in your research.
If nothing else, try a pair and keep the receipt so that you can send them back if necessary.!
For more Reddit recommendations, check out what Redditors have to say about:
Hope this helps!