Many people don't workout to lose weight. They want to add muscle definition or bulk up.
In that instance, it pays off handsomely to have your own set of barbells at home. 
Even if you have a gym membership, it's a good idea to have some weights of your own. That way when you're stuck at home for any reason (gym closed for a holiday, for example), you can still get in a workout.
One of the most important pieces of home strength training equipment you'll need is a good barbell — it'll be the building block of a majority of your workouts.
But what's the best barbell to buy for a home gym? I went to Reddit to find out from real people and real barbell owners.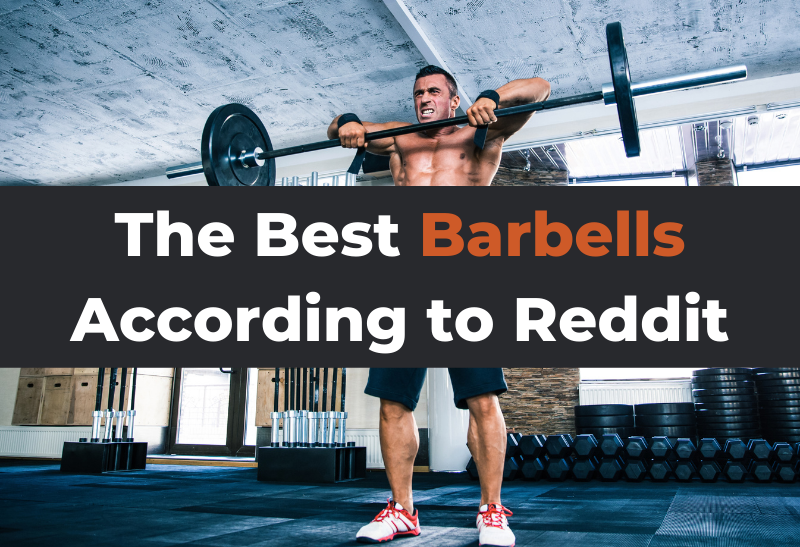 Here are 3 of the best barbells according to Reddit:
Sabre Olympic Barbell: Best on a budget
Stainless Steel Ohio: Best high-end
American Barbell California: Best for CrossFit
Let's take a look at each one and why Redditors recommend them.
---
Sabre Olympic Barbell: Best on a budget
A lot of us don't have a lot of money to spend on weightlifting equipment.
That doesn't mean you should settle for something inferior, though, and the Sabre barbell, by REP Fitness, fits the bill, budget-wise.
It's rare to find a barbell for under $200, but this one tends to come in around $180 depending on where and when you buy.
It's well-suited for a range of exercises, including deadlift, squatting, and benching. 
On top of that, you have your choice of whether you want the bar to come with a center knurl or not.
Other specs to consider include:
Dual knurl markings
Zinc coating
Ball bearing sleeve design
Capable of supporting up to 1,000 pounds
Sabre Olympic Barbell Reddit Reviews
A lot of people talk about the Sabre barbells on Reddit, especially when it comes to the stellar price.
One Redditor, RPGoon, apparently found one for an even better deal than what it usually goes for on the Sabre website. 
"I got a Sabre olympic bar from Rep Fitness for $149. It's got a 1000lb rating and a tensile strength of 150,000psi. I use it almost daily and haven't had any issues."
A quick word of waring: The Sabre is a terrific budget option, but you'll probably want to avoid going any cheaper than this barbell. Resist the urge to get whatever's inexpensive on Amazon and call it a day.
In addition to all of the Sabre praise, a lot of weightlifters point out how it's paramount to not cheap out. The last thing you want happening is your bar breaking in the middle of a rep. 
Take heed from this rather graphic thread on Reddit.
If you're going to buy a used barbell, then make sure to test it out first.
In the event there's any part of the product that seems sketchy, then it's best to walk away.
Pros
Sabre offers a version for men and women
Strong gripping with minimal slippage
Zinc coating helps prevent rust
Cons
Only comes with a 1-year warranty
See photos and more specs of the Sabre Bar at REP Fitness.
---
Stainless Steel Ohio: Best high-end
For people who have a little bit more money in their bank account, there's a plethora of options available.
They all claim to be the best, but based on the opinions of Redditors in communities like r/bodybuilding, r/crossfit, and r/fitness, a lot of lifters love the Stainless Steel Ohio barbell from Rogue.
As suggested by the name, this bar is made with pride in the USA, right in Columbus, Ohio.
It comes with a tensile strength of 200,000 PSI, and its knurl pattern is unparalleled by anything else in the industry. 
You can have confidence in the non-abrasive grip. Even when you get sweaty, you won't lose your grip on this high-end bar. 
The main downside is the price.
It's available in several different colors, all of which impact the price.
For the most part, you can expect to spend between $300 and $450.
The price tag comes with some bonuses, too. Here are some features that come included.
Polished and grounded bar
Comes with a zinc or black oxide finish
Bronze bushings
28.5 mm diameter
Stainless Steel Ohio Reddit Reviews
A lot of barbells come up when it comes time to discuss the best overall product.
However, the one name you see come up time and time again is "Ohio."
One Reddit user had this praise to heap onto the item.
"I bought their Ohio Power bar, its fantastic. Great knurling, its has tons of grip but does not hurt your skin. Amazing bearings on it. Rogue is a fantastic company."
Further down in the same thread, BioBrandon goes into even greater detail on why the Ohio bar is worth the higher price point (and is actually a better deal than some of the other options out there).
If you like what you hear so far, then you'll enjoy what NikhilT90 has to say about it.
"Get the Rogue Ohio Power Bar. It's USAPL legal (used at the American Open), grips really well, and it's under 300 bucks."
By the sound of it, the Ohio is ideal for people interested in competing.
It may be overkill if you're just looking for the occasional workout at home, but if you're serious about having a great home gym, you can't beat the Ohio.
Pros
Stainless steel construction
Chrome sleeve finish
Lifetime warranty
Sleeves spin smoothly
Cons
See photos and more specs of the Ohio bar at Rogue.
---
American Barbell California: Best for CrossFit
CrossFit offers a form of high-intensity workout many people can benefit from.
It typically incorporates an array of exercises from kettlebells to Olympic weightlifting. 
CrossFit is designed to enhance flexibility, agility, and balance.
As such, it pays to have the right gear by your side, and the California barbell is a great selection. 
It costs a few hundred dollars, but it comes with all of the same great perks you'd expect out of the brand. Specifically, the California barbell is made with a precision ground alloy steel and comes with a Cerakote finish.
Cerakote is a ceramic polymer coating that some major firearm manufacturers use on their products.
The material's designed to withstand conditions in the most corrosive and abusive environments on the planet.
It's designed to last 70 times longer than what you get with a stainless steel or chrome finish.  
American Barbell California Reddit Reviews
CrossFit puts a lot of wear and tear on a barbell, so you need equipment that isn't going to break on you any time soon.
That's why plenty of Redditors, including sye46, recommend the California bar. 
"For Crossfit workouts, I would recommend the American Barbell California bar. I use that over my Ohio bar almost every time. Look up reviews of this bar. Very very good bar."
Those sentiments are echoed later in the same thread by mhatrick.
"I got the California bar! only have used it for a week or so, but absolutely love it! feels better than any rogue bar I've ever used."
On other threads, people can't praise cerakote finishes enough.
It sounds like a genuinely great advantage to have, especially if you plan on leaving your weights somewhere they could be exposed to the elements. 
This Reddit thread sees someone asking about whether Cerakote ends up being worth the extra price. As you can see from the responses, the answer is yes.
Pros
Cerakote application
Smooth sleeves
Recessed welding
Mild-to-moderate knurling
Cons
Sleeves make louder noise than other barbells
Lack of center knurl
See photos and more specs of the California Bar from American Barbell.
---
Wrapping Up
Having a barbell at home, with a selection of free weights, gives you a ton of flexibility.
You can perform bodybuilding or powerlifting style workouts, or even try your hand at Olympic lifts or CrossFit.
It can be overwhelming trying to pick the right barbell. You don't want to cheap out, but most of us don't want to spend $1,000 on an elite bar either.
The options above are a good starting point and come highly recommended by real users — check them out and decide for yourself!
For more Reddit recommendations, check out what Redditors have to say about:
Hope this helps!