Running is one of the best forms of exercise you can get, especially since it doesn't cost a thing.
Still, there are some serious advantages to investing in a treadmill. For starters, you can literally work out anytime, regardless of rain or snow.
There are plenty of treadmill models out there to choose from. Ultimately, you need something that falls within your price range and meets your requirements (like low ceilings or a long belt length).
But a treadmilll is a huge investment, and it helps to hear from people who really own them.
In cases like this, I like to go to Reddit and hear it straight from the people: So what are the best treadmills according to Reddit?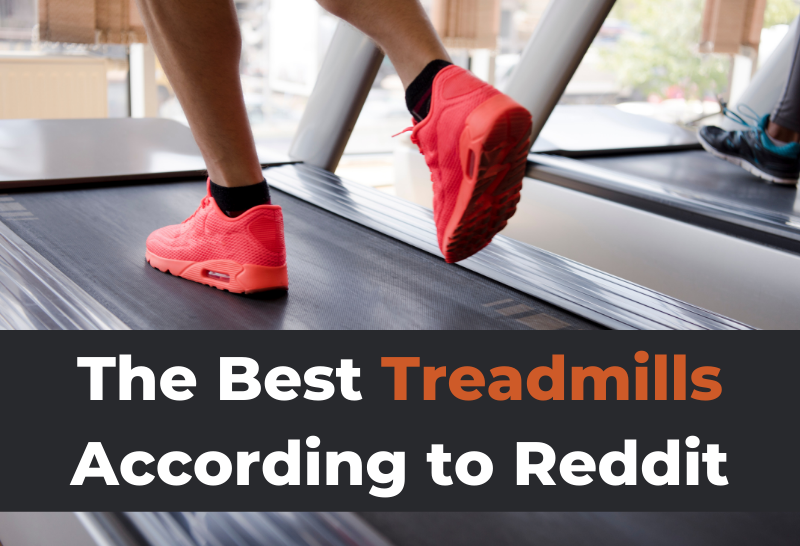 The 4 best treadmills according to Reddit are:
GoPlus 2-in-1 Folding Treadmill: Best on a budget
Sole F85: Best high-end
Horizon 7.4 AT: Best for live classes
NordicTrack Commercial X22i: Best for inclines
Let's take a look at each one and why Reddit users recommend them.
---
GoPlus 2-in-1 Folding Treadmill: Best on a budget
It's hard to come by treadmills that cost less than $500.
However, if you don't mind doing without some of the more luxurious features, then you should look into the GoPlus 2-in-1 folding treadmill. 
As the name tells you, you can fold this treadmill up, which is a huge plus. When it's not in use you can fold it up and put it away, giving you more room inside your house. 
The downside is that foldable treadmills tend to have narrow belts and won't feel as sturdy as a gym treadmill.
They also don't tend to go as fast.
This GoPlus model tops out at 8 miles per hour. It's ideal for walking and light jogging, but if you want to sprint, then you better look elsewhere. 
Some features you will find include:
Bluetooth speaker
Smart app controls
Non-slip running belt
Multifunctional LED display
GoPlus 2-in-1 Folding Treadmill Reddit Reviews
The GoPlus treadmill comes highly recommended from Redditor arose232, who apparently found an even better deal on it. They were able to purchase it for just $389, which is practically unheard of when it comes to cardio equipment.
Other users were able to find similar deals by shopping sales and big retail events.
Based on what people say, the only way you can get a cheaper treadmill is to get one used. 
A lot of Redditors post about how you should look on Craigslist and other resale sites to see what you can find. You may even be able to get an even better model for half the price of the GoPlus. 
For an even better tip, take this advice from forteanglow:
"Timing can be everything when getting a used treadmill. I've gotten good deals in late spring and summer because people gave up on New Year's [Resolutions]."
To get the best deal, it pays to be vigilant.
Pros
Simple assembly
User-friendly
Easy to store
Bluetooth capabilities to sync with your phone
Cons
Short track
Can be difficult to move
See photos, specs, and customer reviews of the GoPlus on Amazon.
---
Sole F85: Best high-end
In case you can afford to pay upwards of $2,000, then you can opt for the Sole F85.
That makes it one of the best treadmills money can buy.
This treadmill comes with a 4.0CHP motor that can attain speeds of up to 12 mph. 
It comes with a heavy-duty steel frame that's designed to last for years without issue.
This frame also allows the machine to handle weights up to 400 pounds.
The best part of all is that it comes with a Cushion Flex Whisper Deck. This reduces the amount of stress the machine places on your joints.
Other features you get with this include:
Bluetooth audio speakers
7 fitness tests
12 custom workouts
Integrated tablet holder
Sole F85 Reddit Reviews
Sole is an immensely reputable brand. When you browse on fitness Reddit forums, you'll find a ton of people talking about them.
One such thread sees a bunch of people discussing various Sole models, and the F85 comes up repeatedly, such as this comment from hand_truck:
This exact model is what helped DrizzitDerp get through the COVID-19 pandemic:
"I also have a Sole F85 that I purchased during our stay at home order. It's awesome. That sucker is built like a tank. I have used it during a summer snow storm, the wildfires, when it was too hot, etc."
Here's some more words of praise from the same thread:
"I also have a sole 85 and it is a solid piece of equipment."
Sole tends to be more of a luxury brand, and a lot of people just can't get down with the price point. But if you don't mind investing in fitness, then it may be a solid choice.
Pros
Quiet motor
Two-ply tracks
30 incline levels
Wireless heart rate monitor
Cons
Too long for folding feature to be of much use
Short siderails
See photos, specs, and customer reviews of the F85 on Amazon.
---
Horizon 7.4 AT: Best for live classes
One of the biggest trends in home fitness at the moment involves live classes.
Instead of scheduling something at the gym, you can have your very own personal trainer in your living room. 
When it comes to this newfangled concept, most people immediately think of Peloton, but Peloton treads are notoriously expensive.
Instead, a lot of people on Reddit seem to recommend the Horizon 7.4 AT treadmill. 
Horizon doesn't offer its own live classes, but instead the treadmill is designed to sync up with popular training apps like Studio, Aaptiv, Daily Burn, and more.
(It also doesn't have its own screen, and you'll need to place a tablet or other device on the dash to follow along.)
It costs half as much as a Peloton treadmill but still comes with an impressive 3.5CHP motor.
It also includes QuickDial controls so that you can move between speed and incline levels with ease. This makes it the perfect device to utilize for interval training. 
Some other benefits of this treadmill include:
Lifetime frame and motor warranty
Hydraulic folding
3-zone cushioned deck
Rapid-charge USB port
Can be used with Peloton, STUDIO, and other apps
Horizon 7.4 AT Reddit Reviews
No matter which treadmill you purchase, you'll have to pay extra to use live classes.
You can browse around to see which app is right for you — there are tons to choose from.
Users Kiasurp17 suggests a few different models, but they ultimately recommend this particular machine for pairing with your favorite training app.
While there are plenty of positive reviews found across social media, a lot of people point out something important.
On a separate thread, blue_diesel asks about the treadmill's compatibility with apps like Peloton.
It sounds like you can subscribe to Peloton or any other running app with the Horizon, but it comes with a catch as notthatjeffbeck points out — not all training apps are supported.
"We have a 7.8AT and Peloton app on our iPad. You watch the class and run whatever you want, but the treadmill and app don't connect."
If you want to take full advantage of what the Horizon has to offer, make sure you sign up for a training app that syncs up with the treadmill properly.
Pros
Good for HIIT training
Bluetooth heart rate monitoring
Ortho-lite belt design
Extra-large running track
Cons
Tablet becomes necessary
Monthly fees with app subscription
Check out the Horizon 7.4 treadmill right here.
---
NordicTrack Commercial X22i: Best for inclines
Treadmills, in general, are great for people wanting to lose weight, because you can burn a ton of calories in a short amount of time at home.
(See more about the results you can get from treadmill workouts.)
You can raise that number by utilizing your machine's incline feature, and the NordicTrack Commercial X22i is one of the best on the market for this. 
This product may cost a couple thousand dollars, but it comes with plenty of features to benefit from.
This includes quiet drive incline tech, so you can alter your levels without dealing with a ton of noise. 
Both the speed and incline controls respond rapidly to your touch. It makes it great for altering levels in the middle of a workout without slowing down for a second.
Outside of the impressive incline, you can also expect:
Integrated Google Maps
The iFit mobile app
Family membership options
Improved HD graphics
NordicTrack Commercial X22i Reddit Reviews
NordicTrack is a trusted name in the fitness community. Plenty of runners have found great success with their machines, such as rhymeswithvegan, who mentions:
"I have the Maxcare one from Amazon, it was like 3 or 400 bucks. It's fine and I've put a lot of miles on it but I will definitely be upgrading to a Nordictrac for the 40% incline as I'm now training for ultra distances with steep climbs.
"They have interest free financing for 36 months making it cheaper than some gym memberships."
On another thread, a user asks if others would recommend the NordicTrack Commercial X22i specifically.
There's good and bad news to be found. The good news is that plenty of people recommend it, especially considering its first-class incline features. 
Other users chime in to talk about how their machines came faulty.
Some people apparently have issues with the control board and WiFi connectivity, but others haven't had any issues at all. 
You should look up the NordicTrack customer service contact information so that you know where to turn if your machine has issues.
Considering the amount of money you'd spend on this device, everything needs to work properly, so don't be afraid to call or email to get help. 
Pros
Built-in fans
44 built-in programs
Up to 40% incline
Large HD screen
Cons
Low user weight capacity
Not a ton of storage space
Check out the X22i right here.
---
Wrapping Up
Before buying any treadmill, it's vital to ask yourself how you plan on using it.
If you just want something to walk on passively as you watch TV, then you probably don't need to shell out a ton of money to get a machine with all the bells and whistles. 
However, anyone planning on training for a marathon or serious running goal may want to invest a little more.
If you need classes to motivate yourself to exercise, then getting a machine you can use in tandem with live apps is a major benefit. 
Everyone's different, and looking at the massive selection out there can be intimidating. Do what's right for you, and the results will follow.
For more Reddit recommendations, check out what users have to say about:
Hope this helps!