HIIT is the perfect workout for people who want to exercise on their own but don't have a ton of time to dedicate to a new routine.
HIIT-style workouts involve brief intervals of intense effort (anywhere from 30 to 90 seconds, usually), followed by a short rest.
Through these incredibly efficient HIIT workouts, even if you can only devote 20 minutes a day to your health, you can still see results within a couple of months. 
But what are the best HIIT workout apps if you're just getting started? I went to Reddit to find out what real people are using and which apps they love the most.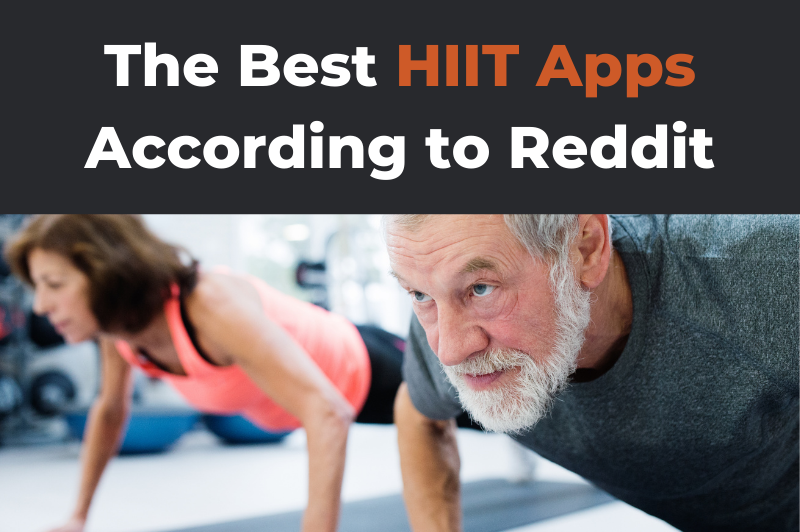 The 3 best HIIT workout apps according to real users on Reddit are:
Seconds Pro: Best for no equipment
Keelo – Strength HIIT Workouts: Best for strength-based HIIT
Seven: Most flexible
Let's take a look at each one and why Redditors recommend them.
---
Seconds Pro: Best for no equipment
Seconds is an interval timer app that allows you to create a custom workout (or use a template) and be notified when it's time to switch to the next exercise or rest.
It's great if you want the freedom to develop your own HIIT routines and just need a "Ding!" to help you keep track of time.
The base model is free and basically functions as a basic timer.
However, if you're serious about your fitness, then you'll want to upgrade to Seconds Pro. This app costs $4.99, but it gives you access for life and the ability to save your workouts and use them again and again.
One cool perk of Seconds is that you can choose a custom notification sound to signal the start of a new interval.
For example, instead of a loud, annoying beeps, you can choose between soothing bells and gongs. 
Seconds Pro also makes it easy to sync up your music app with your workout.
For example, you can play certain songs for certain exercises to help you get into the zone. Plus, you can sync it in a way where no music plays when you're in the middle of a rest period. 
Best of all, the app tells you what exercise to do next, so you don't have to look at your phone.
Seconds Pro Reddit Reviews
Whenever someone logs onto Reddit looking for the best HIIT apps, Seconds always comes up.
One such thread sees someone asking about the best HIIT app overall, and the most upvoted response brings up Seconds. 
"I really love the Seconds* app on Android. I do jump rope when I'm "lazy" and sprints/jump squats when I train for dodgeball.
"It honestly doesn't matter what you do as long as you're getting your heart rate up there. I am following the bodybuilding 8-week HIIT approach."
That's not the only place on Reddit you'll find praise for Seconds.
A separate thread sees someone else asking about the best app around, and again, Seconds comes up. 
Looking through the rest of the site, it does appear as though the app has a few drawbacks.
Namely, there are several threads of people getting confused about how to work the music functionality. 
The response isn't all that helpful, and it's unclear if this user was able to rectify the issue.
Still, for a simple and reliable interval timer app, Seconds is one of the top picks for HIIT.
Pros
Thousands of five star ratings on iTunes
Full AirPlay support
Use timer templates for HIIT, Tabata, and other workouts
Share timers with others via email, Facebook, and Twitter
Supports Wahoo Heart Rate Monitor
Cons
Some issues with music syncing
Full version is paid
Doesn't tell you what workouts to do
---
Keelo – Strength HIIT Workouts: Best for strength-based HIIT
HIIT takes many forms.
Some workouts are designed simply to get your heart pumping with moves like jumping jacks and burpees.
Others incorporate strength and calisthenics movements like push-ups and squats.
If you're interested in using HIIT to build muscle and a lean-toned physique, then you'll want to look toward more strength-based HIIT. 
For strength-based HIIT, you won't do much better than the Keelo app according to Redditors.
This app gives you a ton of video instructions and workouts for strength-based interval workouts (and non-interval workouts, as well).
It even provides you with recommended weights to start with (if you're incorporating dumbbells, barbells, or kettlebells into your training) and helps you build up over time.
The best part? You can benefit from all of this for free at first, though you may eventually want to upgrade to get more out of the app.
(Learn more about the different types of HIIT.)
Keelo – Strength HIIT Workouts Reddit Reviews
Keelo doesn't merely have users on Reddit.
There's an entire subreddit filled with hundreds of people benefitting from what the app has to offer.
In the event you decide to download the app, then you should highly consider joining it so that you can receive the inspiration to carry on with your workouts. 
The progress really speaks for itself. Plenty of people post pictures of their progress courtesy of the app, including BrodyKeytone, who had this to say:
"My weight has largely stalled out … but I've been continuing to exercise a few times a week doing HIIT using the Keelo app, so I think I'm seeing improved muscle mass."
Here's a thread where a user cut together some video clips of his amazing progress using the app.
In this post, user u/ReddKeep writes, "I've been using Keelo a long time and I love it. Thanks for making THE best workout app out there!"
An even greater perk of joining the Keelo subreddit is that there are people who work for Keelo hanging around to help with questions and troubleshooting.
Pros
Amazing for follow-along strength & HIIT workouts
Track your best lifts (like bench, deadlift, etc.)
Optimized for Apple Watch
Keelo rewards where you can earn free swag
HD instructional videos
Heart rate tracking
Cons
Need to purchase upgrades to unlock full potential of the app
---
Seven: Most flexible
Sometimes you want to mix things up.
You may want to focus on your lower body one day and then your upper the next.
With over 200 7-minute workouts to try, there's always something new to check out with Seven. 
This app contains an array of exercises to try out, many of which don't even require any outside equipment. This allows you to use it whether you go to the gym or prefer staying at home.
Since you only have to put in seven minutes of exercise a day, it's ideal for people with busy schedules who still want to take care of themselves. 
One of the coolest features found on the app is how you can change the voice of your instructor.
You can select between having a cheerleader, drill instructor, and more based one what motivates you the most. 
Plus, if you decide to join the 7 Club, which costs $9.99/month, then you can receive tips from a real-life certified personal trainer.
Of course, there's a free option as well if you don't want to pay anything. 
Over time, as you vary your routine, you'll even earn rewards, allowing you to stay invested in your health.
Seven Reddit Reviews
The idea of only having to commit to seven minutes of exercise a day is an appealing prospect to many would-be trainees.
The biggest obstacle people may have to downloading the app and giving it a shot is skepticism surrounding whether you can truly benefit from such a limited timespan. 
However, you should take these words of praise from Redditor balexandre:
"I always loved HIIT, those 30 secs that you push yourself and rest for 10, seems (to be) what I enjoy more when doing exercises and I've been enjoying the Seven.app."
People all over Reddit praise the seven-minute workout format. Is it enough to totally transform your physique in a few weeks? Probably not.
(Read more about the pros and cons of fast HIIT workouts.)
But if you're intimidated by longer workouts and just getting started, Seven can boost your fitness and help you develop the confidence to tackle more challenging routines.
Seven minutes is all it takes to change your life.
Pros
Massive exercise library
User-friendly with minimal glitches
Earn badges and join challenges
Compatible with supplemental exercises, like walking
Cons
No food plan option
No warm-ups or cool-downs
---
Wrapping Up
You don't need to spend hundreds of dollars on a personal trainer to help you exercise more.
With the right app, you can work out whenever it's most convenient for you, at home, with almost no equipment.
Plus, all these HIIT workout apps can send you notifications for when you haven't broken a sweat in a while.
It keeps you on top of your new regimen, and for under 10 minutes a day, you can get a shockingly good workout.
For more Reddit recommendations, check out what Redditors have to say about:
Hope this helps!