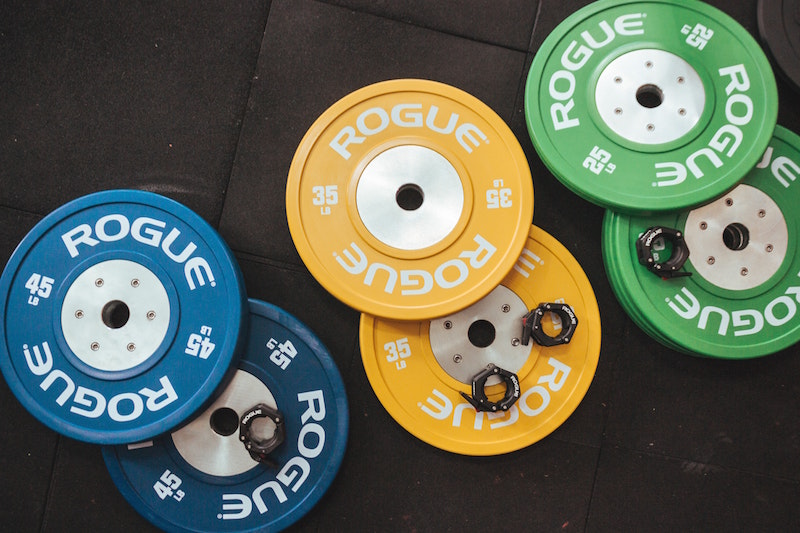 Choosing a gym can be a really difficult decision.
I know by my house there are at least 3 of the major gym chains.
When you start including gyms near your office, the choices get even broader!
If you live in the United States, chances are pretty good that you have nearby access to both Gold's Gym and Planet Fitness… both awesome choices.
But how do you know which one is a better fit for you?
This is the exact reason I launched my Gym Comparison series! In these articles, I pit two major fitness chains against one another and compare them on price, equipment, classes, childcare, vibe, and more. All so you can make a more informed decision.
In this piece, we'll take a look at Gold's Gym vs Planet Fitness.
The biggest difference between Gold's Gym and Planet Fitness is definitely the equipment selection and culture. Gold's caters more heavily toward the weightlifting crowd with an excellent array of free weights and machinery, and an environment that encourages lifting heavy. Planet Fitness takes a strong anti-meathead stance and is a better fit for cardio and HIIT workouts.
Let's take a closer look.
(And psst, you might also want to try just getting in shape at home with my favorite app, Beachbody on Demand. Use my link and try it free for 14 days.)
---
What is Planet Fitness?
Planet Fitness is one of the most ubiquitous fitness chains in the country; maybe even the world.
These gyms are quite literally everywhere, with over 1,000 bright purple and yellow locations nationwide.
Here's the basic deal with Planet Fitness: Here, you'll get really inexpensive gym access, lots of cardio equipment, 24-hour access, and very few amenities to go with it. They keep the experience super stripped down to keep prices low. For that reason, PF is meant for a very specific kind of person.
If you're looking for a health club vibe or somewhere that you could spend hours at a time, PF won't be a fit.
But for busy people on a budget who just want a nice place to get in a quick workout, Planet Fitness is one of the best around.
(And yes, Planet Fitness gives haircuts to members, but only in certain locations!)
---
What is Gold's Gym?
Gold's Gym is one of the original names in commercial fitness. Joe Gold opened the first studio way back in 1965, and now the chain has over 700 locations across the United States and beyond.
Known primarily as a weightlifter's and bodybuilder's gym, Gold's isn't just for meatheads. Most locations will also have tons of cardio equipment, group fitness classes, functional training, childcare, tanning, massage, pools, and more.
Gold's Gym is a favorite of celebrities like The Rock, Keanu Reeves, Tiger Woods, Hilary Swank, and Jessica Alba.
---
Cost
Planet Fitness Cost: You know what I like about Planet Fitness? Simple pricing! You know basically what you're going to get at almost any PF, though costs may vary a bit from location to location.
On top of that, in terms of pure price, you're going to be hard-pressed to find a better deal anywhere.
To become a member at Planet Fitness, you should pay around $10 per month, plus startup fees which vary from location to location.
To go no contract (and cancel whenever you want), it'll cost $15 per month. For access to any PF location in the country, you'll pay around $20 per month.
Gold's Gym Cost: I've honestly never seen such complicated and inconsistent pricing at a gym chain.
My best advice for you here is to find your local Gold's Gym and browse their pricing options to find out for yourself.
At different locations around the country, you might find membership levels like:
VIP
Bronze, Silver & Gold
Access, Enhanced, Bootcamp & Studio
Basic & Vintage
And more
Franchise owners at GG must have quite a bit of freedom and leeway with how they do their pricing.
In general, you should expect to pay between $20-30 per month at Gold's Gym, plus startup and annual fees. It'll all depend on location and what kinds of amenities each location has.
Clearly, Planet Fitness is cheaper and has way more transparent pricing.
But which gym offers the better value?
---
Hours
Planet Fitness hours: I mentioned that Planet Fitness was convenient, right?
The chain boasts 24 hour access to (most of) its gyms, which is huge for you early morning commuters and night owls.
I would double check your local branch, though, to be sure. There are a few Planet Fitness spots that aren't open 24/7, though they usually still offer late hours. And you should also take a look at holiday hours and closures before you commit.
Gold's Gym hours: Hours at GG also vary greatly by location.
Many Gold's Gym studios are open 24 hours. Sometimes, they're open midnight to midnight during the week and have abbreviated hours on the weekend.
Other locations open early in the morning and close around 10pm.
You'll have to check your local spot to be sure.
---
Equipment
Planet Fitness: Cardioheads, rejoice! PF was made for you. When you walk into Planet Fitness, you step into a sea of treadmills, stairmasters, ellipticals, bikes, and more. There should be plenty to keep you busy, even during peak hours.
What you won't find much of at PF, though, is weightlifting equipment. There are some light dumbbells and sometimes a Smith machine (and often, there's a strength training circuit with machines), but you'll never find barbells, free weights, or power racks here.
Gold's Gym: Gold's has pretty much everything. In most cases, you'll find more than enough cardio equipment to keep you happy and challenged during every session.
What you'll find here, however, is a much more robust weight lifting area. Gold's is a notorious bodybuilding and powerlifting favorite, so they'll usually have plenty of free weights, power racks, barbells, and more.
I'd make sure you tour your local spot, either Gold's or Planet Fitness, to make sure they have what you need before you sign up.
---
Classes
Planet Fitness: For new members, PF offers a basic introductory course to get you started in the gym, learn the ropes, and get on a workout plan. But outside of that, there are no group fitness classes at Planet Fitness, paid or otherwise.
Gold's Gym: Most GG locations have plenty of group fitness classes — a dozen per day or more. With your membership you should get access to stuff like Zumba, BODYFLOW, BODYCOMBAT, Silver Circuit, and various other cardio, strength, and bootcamp style group workouts.
---
Pool/Spa Area
Planet Fitness: Nothing to speak of, here. Planet Fitness keeps costs down by eliminating extra amenities like this.
Gold's Gym: Some locations have pools, saunas, and whirlpools, while others don't. Again, check with your local franchise branch to see what they have to offer.
---
Showers
Working out before your commute? Grabbing a quick sweat during your lunch break?
Both Planet Fitness and Gold's Gym have full showers in their locker rooms. So no need to worry!
---
Childcare
Planet Fitness: No childcare at Planet Fitness. Some people actually prefer this child-free atmosphere, but if you're looking for a helping hand while you grab a workout, no PF locations (as far as I know) offer any assistance.
Gold's Gym: Has something called the Kids Club where you can drop off the little ones while you workout. It should be included with your membership, but this may vary depending on the membership levels at your local gym.
---
The Verdict
Planet Fitness and Gold's Gym are pretty different.
One caters to busy cardio lovers on a budget. The other has a bodybuilding vibe and offers a much wider range of amenities, depending on location.
Here's my basic guide to how I would make this decision, if I were you:
You might prefer Planet Fitness if:
You want the cheapest gym access around
You primarily do cardio
You like a kid-free environment
24-hour access is a must
You might prefer Gold's Gym if:
You want access to lots of lifting equipment
Your local gym has amenities you want, like a pool
You need child care at your gym
(And don't forget to check out Beachbody on Demand for hundreds of at-home workouts you can do in your living room. Hit the link to try it completely free for 14 days.)
Hope this helped!
Still not sure? Check out my detailed reviews of Planet Fitness and Gold's Gym.